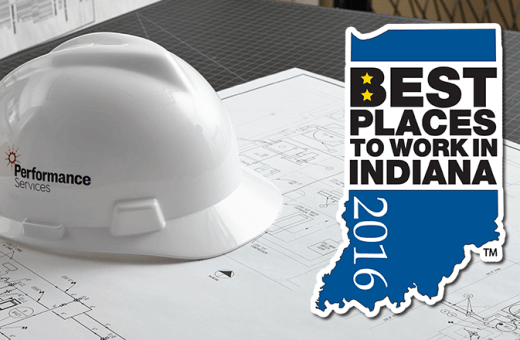 Performance Services is honored to be recognized as a 2016 Best Places to Work by the Indiana Chamber of Commerce in the Medium Company category. On May 5th, all winners joined together at the Indiana Convention Center for an awards dinner, and before a crowd of 1,200, the Indiana Chamber of Commerce unveiled the rankings.  This year saw the highest number of company applicants to date with 200 total companies coming forward to be considered, with the top 100 Indiana companies receiving the distinction.
In order to participate in the 2016 Best Places to Work program, Performance Services received an in-depth evaluation identifying strengths and weaknesses according to our employees. The Best Places organizations were determined through employer reports and comprehensive employee surveys. The Best Companies Group, which handled the selection process, oversees similar programs in 27 other states. View the link to the full BizVoice May/June 2016 issue below:
Performance Services is pleased to be named as a 2016 Indiana Best Places to Work company and was selected for a feature article in the May edition of BizVoice magazine! Photos of the evening event are located on our Facebook page.