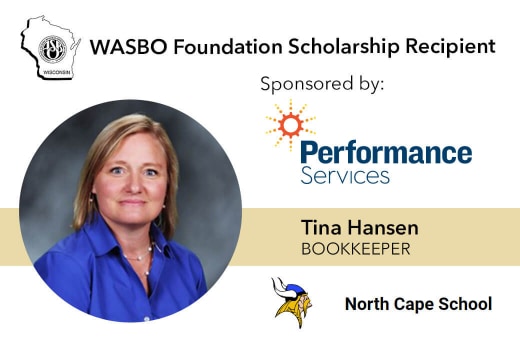 MADISON, WI. – Tina Hansen, Bookkeeper for the North Cape School District, is the recipient of the $2,000 Dr. Bambi Statz Academic Scholarship, sponsored by Performance Services. This scholarship is presented to an individual who is currently working toward a degree and certification in school business management in Wisconsin. Applicants must be enrolled in an accredited university graduate program in Wisconsin leading toward initial 08 Certification. Hansen is currently pursuing her School Business Manager licensure credits through the University of Wisconsin-Whitewater.
"As an immigrant who has taken the American opportunity to graduate high school and earned a bachelor's degree in accounting and a master's degree in curriculum and instruction, I love the journey that has brought me to the School Business Manager program and look forward to using the knowledge to serve Wisconsin school districts," Hansen said.
The $2,000 scholarship is in recognition of Dr. Bambi Statz's contributions to the school business management profession and is fully funded by Performance Services. Hansen was recognized during the 2022 Spring Conference at the Kalahari on May 20, 2022.
WASBO provides professional development for school business staff, fosters a network of support, and advocates for funding that ensures outstanding educational opportunities for all children in Wisconsin.