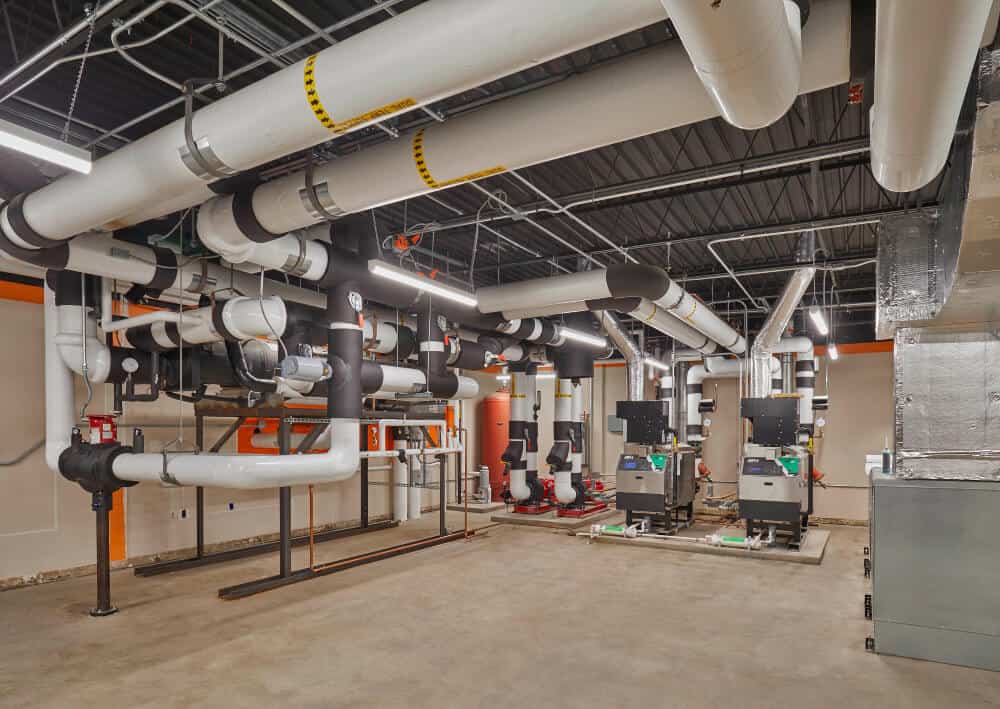 Energy Savings Performance Contracts: A Budget-Neutral Solution
Public owners can use energy savings performance contracting to finance energy-focused infrastructure projects, including solar. This flexible funding alternative helps schools, universities, cities, towns, counties, and state governments use energy savings and avoid capital costs to address deferred maintenance and pay for improvements. As a result, no up-front capital is required. Projects are financed and repaid with guaranteed energy and efficiency savings.
An Energy Savings Performance Contract is a contractual agreement between a qualified provider and a public entity to reduce the energy and operating costs of a building through the implementation of energy conservation measures. They are unique in that they do not require a large up-front investment. Future energy savings from the improvements can be used to pay for the cost of the project.
Once the project is implemented, the qualified provider monitors utility bills and energy consumption every month to ensure that everything is running correctly and efficiency levels are reached. If the actual energy savings do not match the energy savings that were promised, the provider will pay the difference and make any changes needed. Any additional savings achieved from the project go directly to the building owner.
Below is a graph illustrating the cash flows of a performance contracting project: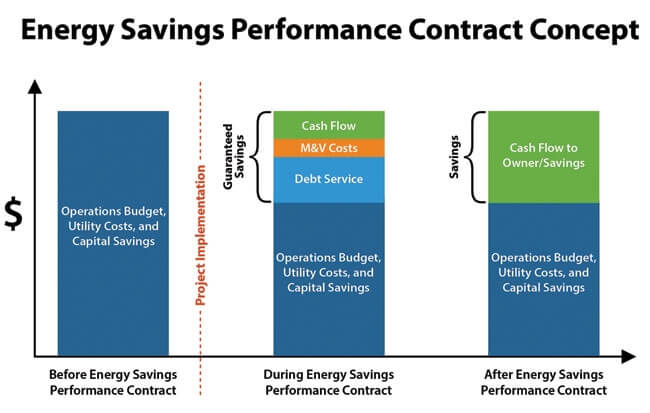 What Types of Energy Improvements Can be Made with an Energy Savings Performance Contract?
Energy savings programs were created to promote awareness and implementation of sustainable construction in public facilities. They have become more important as energy costs rise and budgets decline. Below are some common energy improvements public owners can implement with performance contracting.
01

1

Energy Conservation Measures

Energy conservation measures can include installing new energy equipment, adding renewable energy to a building, and reprogramming energy controls to perform optimally and efficiently. Energy savings are calculated based on a benchmark year of building energy consumption before the project has been implemented by a qualified provider.

02

Renewable energy is an important consideration for guaranteed energy savings programs. Depending on local laws, solar power can often be installed as part of an energy savings performance contract or guaranteed energy savings contract. The process is slightly different, but the funding mechanism remains the same.

03

Energy Savings Performance Contracts are a great way to address maintenance issues that have been deferred due to budget constraints. Often the maintenance is long overdue and results in significant energy and operational savings.

04

4

Advanced Metering Infrastructure

Cities and towns can use an Energy Savings Performance Contract to fund renovations to aging water meters and wastewater treatment facilities. In many states, the operational savings captured from such improvements fund the project.

05

New equipment installed as part of an energy conservation project can reduce repair costs associated with maintaining old and inefficient equipment. In addition, the higher cost of making upgrades to buildings in the future can be avoided by including this work as part of an energy project. This may also be referred to as maintenance savings or capital cost avoidance.
How To Get Started with an Energy Savings Performance Contract
The Performance Contracting process is not complicated. Our team will work with you to find the best solution for your facilities. Follow these simple steps to get started.
01

1

NO-COST FACILITY ASSESSMENT

We conduct a thorough review of your buildings, considering your priorities, desired timing, and budget needs. Our talented and experienced engineers provide creative insights to identify maximum savings potential. This includes examining utility bills to provide a benchmark of how much energy you are using and savings potential.

02

2

REQUEST FOR QUALIFICATIONS OR COOPERATIVE PURCHASING

Public entities follow a request for qualifications process using ESPC legislation. Cooperative purchasing (such as TIPS) may also be an option for your state. An investment-grade audit follows selection to detail the project, including energy conservation measures, project costs, and guaranteed savings.

03

After designs are finalized and the guarantee determined, our project manager will lead construction to complete your project on budget and on schedule. Your client experience with our team before, during, and after project completion is critically important to us. We are committed to 100% cleint satisfaction and exceeding your expectations.

04

4

MEASUREMENT AND VERIFICATION

Our dedicated Performance Assurance Team is introduced at project turnover. On a monthly basis, we compare your utility bills with our guarantee to make sure that your savings are being realized. Monitoring is ongoing and lasts the life of the contract. We also utilize data analytics and examine equipment run-time data to make sure your mechanical systems are performing well.

05

Performance Services provides an annual savings review and report as evidence of our promise to assure we are meeting or exceeding the guarantee. We believe in a long-term commitment to our clients and fulfilling our promises–always.
Contact Us for a Facility Condition Assessment
Benefits of Working with Performance Services
PROJECT FINANCING
Project costs are 100% financed and are repaid with guaranteed savings and revenue increases. Financing options are available.
GUARANTEED PERFORMANCE
Our promise of guaranteed performance applies to all of our projects, including energy savings throughout the life of the contract. We can provide project performance criteria in other key areas too. These include air quality, humidity, temperature, and noise levels – all factors contributing to or defining the client's optimized environment.
OPEN BOOK PRICING
At Performance Services, we believe in total transparency for services rendered, including a choice of subcontractors and line-item pricing. Our true open book pricing provides the owner with interactive and fully competitive pricing for all cost categories. This ensures the owner is getting the best value with the reassurance they deserve.
NO CHANGE ORDERS
Performance Services takes responsibility for any oversight within the scope of the proposed project. We have a track record of commitment to no change orders within the agreed scope of work. At Performance Services, our word is our bond, and we want to maintain excellent relationships with our clients.
ENERGY STAR LEVEL PERFORMANCE
At Performance Services, we pride ourselves on the work it takes to deliver high-performing buildings, that's why we believe in ENERGY STAR, a rigorous performance-based recognition that includes environmental criteria as certified by our professional engineers. Being a leading qualified provider for ENERGY STAR buildings, we bring the support needed to earn this recognition and proof of a high-performing building.
For more information about working with our team, please contact us today.