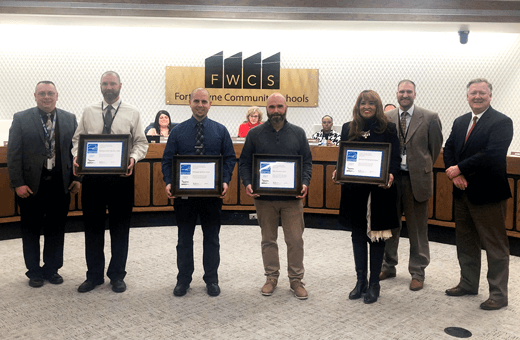 Fort Wayne, IN. Fort Wayne Community Schools (FWCS) has received notification from the U.S. Environmental Protection Agency (EPA) that six additional schools have earned the ENERGY STAR label. Franke Park, Glenwood Park, Haley, Shambaugh, St. Joseph Central, and Washington Center Elementary Schools have earned the ENERGY STAR. The District now has 29 ENERGY STAR certified schools. Schools awarded ENERGY STAR represent the top 25 percent of similar buildings nationwide for energy efficiency and meet strict indoor air quality performance levels set by the EPA and as certified by a professional engineer.
Faced with significant budget challenges like many school districts, FWCS approved a plan in 2011 to implement a strategic approach to energy conservation by increasing focus and awareness around energy consumption and simple behavioral changes. FWCS selected Performance Services' Energy Leadership program through a professional services agreement and worked with a dedicated FWCS Energy Manager to successfully launch and sustain the District's program. During the most recent year, the FWCS Energy Leadership program exceeded all program goals by reducing energy consumption by 26% for a cost avoidance of nearly $2.7 million! Since program inception and over ten years, the District has had a cumulative cost avoidance of over $18 million.
"It was an absolute honor to be chosen by FWCS as their energy conservation partner in 2011 and to see the significant impact that has resulted from our partnership is hugely satisfying. The results achieved through our Energy Leadership program are excellent evidence of what can happen when a school's leadership provides and supports real focus and purpose," said Mike Lindsey, Manager of Performance Assurance and Energy Leadership for Performance Services.
Fort Wayne Community Schools is the largest school district in Indiana, serving an estimated 30,000 students across 50 schools.
Performance Services has served the construction, energy, and learning environment needs of education and local government clients since 1998 and is a leading qualified provider of design-build, guaranteed energy savings contracts, and Energy Leadership programs.