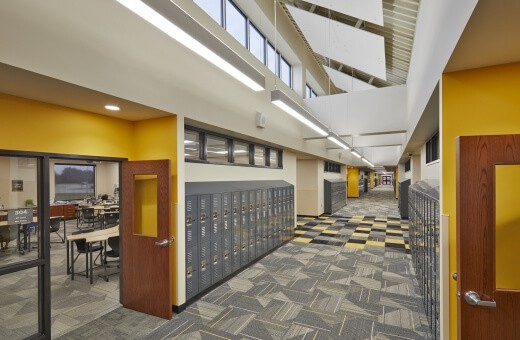 Avon, IN. The Avon Community School Corporation will celebrate completion of the Avon Intermediate School East building renovation project on May 21st at 2PM with a ribbon cutting event at the school. The goal of the project was to upgrade the facilities and reconfigure the building to support current and anticipated STEM-focused programs. Avon utilized the competitive Progressive Design-Build procurement method, and Performance Services was selected to design and implement the project. The $17.8 project comprised 118,500 S.F. of learning spaces and was complete in December 2018.
The intermediate school serves 5th and 6th-grade students and renovations completely reconfigured the academic core by creating pairs of classrooms that share a collaboration room supporting the school's paired collaborative teaching approach. Natural light was introduced into the academic core through new clearstory skylight systems installed in the existing roof, bringing natural light into virtually all interior spaces. The classroom core is supported by a group of multi-functional STEM collaboration spaces of various sizes that are anchored by a new Innovation Center, all interconnected and thoughtfully arranged to allow the spaces to be utilized individually or in unison.
Margaret Hoernemann, superintendent remarked, "The Avon Community School Corporation Board of School Trustees and administration are delighted with the renovation of Avon Intermediate School East. In less than two years, this school was transformed into a 21st century learning environment. During the collaborative process with our partners at Performance Services, teachers and many students provided input into design and function. Without raising taxes we improved safety, added natural light, increased collaborative learning spaces, built a STEM Innovation Center, and expanded the music wing.  We are thrilled with the cooperation of our students and staff and grateful for the leadership of Principal Shayotovich and Assistant Principal Bates."
The administrative suite and main entrance were also reconfigured to improve security and function, as well as provide a fresh face on a building that lacks a recognizable main entrance. The band, choir, and orchestra spaces were rebuilt to support Avon School's strong performing arts programs.
"We are honored to have served the Avon school community through the renovation of Avon Intermediate School East.  The collaborative learning environments created through this renovation are a reflection of the spirit and culture of the Avon School leadership and staff working with the design-build team to develop creative, high-performing learning environment.  We are pleased to have met Avon's goals of improving safety, providing collaborative STEM learning spaces, performing arts spaces, and bringing natural light to the building core on time and under budget," said Tim Thoman, President and CEO, Performance Services.