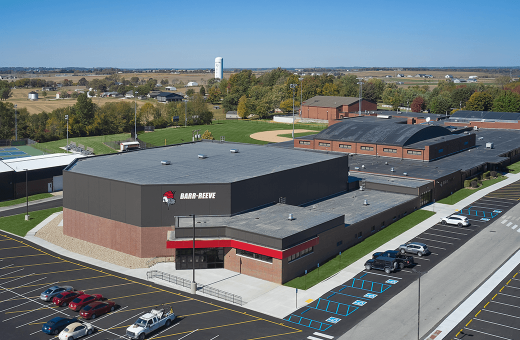 Montgomery, IN. Barr-Reeve Community Schools invited the community to celebrate the completion of its design-build construction project on Sunday, March 20, 2022. The event kicked off at 2:00 PM with a dedication and ribbon-cutting ceremony and student-led tours of the new facility and new fieldhouse for spring sports and PE classes to utilize year-round.
The District launched a $16.1 million progressive design-build project in 2018 to provide additions and renovations to the school, with project completion in the fall of 2021. The school's expanded footprint now accommodates primary grades to form a K-12 campus and provides state-of-the-art classrooms, and a new competition gymnasium was completed in the summer of 2020.
"We are so excited to show off the work completed at Barr-Reeve Community Schools over the past few years. The project updates and additions will benefit ALL our academic, fine arts, and athletic programs for years to come," says superintendent Dr. Travis Madison. "I want to thank Performance Services and all the work crews and subcontractors who have been wonderful partners in bringing our vision to reality. I also want to commend our School Board Members, both past and present, for their willingness to think into the future, helping plan and provide our students, teachers, and community with this facility.  Lastly, I want to thank our supportive community and taxpayers who make this school, our students, and the future of our schools a top priority. You continue to provide anything and everything we could need! We would not have a great school without our community's financial and moral support to make things like this happen!"
Project Highlights:
New competition gym seating 2,900
New commons and concessions area
New athletic entrance
New stage system in the original gym
New band room with office, storage, practice rooms
New choir/music room
New (additional) primary classrooms
New HVAC central plant equipment
New science lab
HVAC upgrades
Roofing replacement
Kitchen/technical office renovation
LED lighting updated in all areas for increased efficiency
Replaced floor coverings in all corridors; and gym floors redone
Updated restrooms and locker rooms, all outfitted with touchless equipment
Classroom mechanical unit replacement
The Barr-Reeve Technical Review Committee for the project selected the design-build delivery method to ensure no change orders; and awarded the project to Performance Services, an Indiana-based design-build company. Performance Services' design team partners included Lynch, Harrison & Brumleve, and American Structurepoint, Inc.