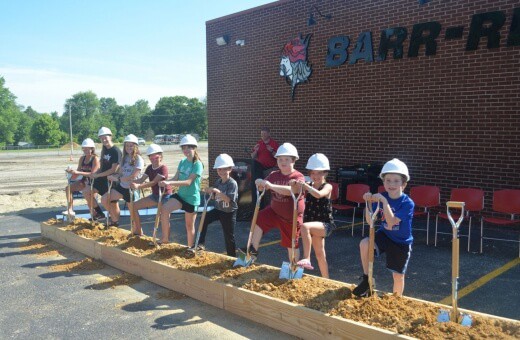 Montgomery, IN. School may be out for the summer, but the hallways at Barr-Reeve Community Schools will still be bustling. Barr-Reeve Community Schools is eager to break ground and celebrate expanding the school's footprint, bringing all K-12 together to one campus. They will host a formal groundbreaking ceremony at the school on June 11th at 5:00 pm Eastern Time.
Barr-Reeve will undergo a transformation and enlarge its campus footprint with a $16.1 million project to support additions and renovations utilizing design-build delivery. This project will provide state-of-the-art additional classrooms and accommodate the primary grades in the building. Renovations include enlarging the cafeteria, with building additions including a new competition gym, athletic locker rooms, and a new choir/music room and band room with practice rooms. The school facilities will also be improved by replacing the aging central boiler and air conditioning plant as well as replacing the oldest classroom heating and cooling units.
The Barr-Reeve Technical Review Committee for the project selected the Performance Services' design-build team after extensive research to find a provider and delivery method that would best support the school's goals, with a no change orders guarantee. Performance Services' design team partners include Lynch, Harrison & Brumleve, and American Structurepoint, Inc.
"We are extremely excited about the school's addition and renovation project and what this will mean to our students, faculty, school, and community.  We are thrilled about how smoothly the process has gone so far and are looking forward to the continued partnership with Performance Services and all the contractors who have come on board to work with us on this project," said Barr-Reeve Superintendent Dr. Travis Madison.
Barr-Reeve's Community Schools are changing lives "Cultivating Dreams, Capturing Experiences, and Building Potential." Learn more at http://www.barr.k12.in.us/.