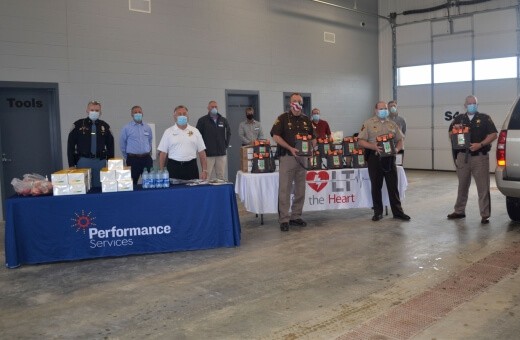 Tipton, IN. To honor some of our law enforcement "Hometown Heroes", Performance Services proudly awarded 15 state-of-the-art Automatic External Defibrillator (AED) devices to Sheriff departments in need. Sheriffs from the northern and southern parts of the state lined up outside the newly constructed Tipton County Sheriff's Office and Corrections Center to "drive-thru" the sally port of the new facility and receive their AED device.
Bolt for the Heart partners with sponsors, such as Performance Services, to achieve its mission of serving the state of Indiana, particularly those affected by heart disease, through education, financial support, and direct assistance.  In 2014, the mission was further defined to focus the AED donations on giving back to those who give so much – Our First Responders. Bolt for the Heart's goal is to provide a life-saving AED device to all 92 County Sheriff Departments.
"We have a mighty goal ahead of us," shared Bolt for the Heart President, Pierre Twer, "but know with our sponsors and partners this goal will become a reality. It is gratifying for us and our Bolt for the Heart Board, to receive a call from a sheriff or state trooper saying they used their AED device last night and saved a life. That is why our mission and education on the cause is so important to me and why I do what I do."
An AED is a portable Automated External Defibrillator used to restart someone's heart in the event of Sudden Cardiac Arrest (SCA). Every day, 1000 people die from a sudden cardiac arrest, which is one of the leading causes of death in the United States. Providing these Sheriffs with a life-saving AED device, can help reduce the number of deaths. Each device will include a traveling case, pads, CD tutorial, manual, and all warranty policies affiliated with the device. These Cardiac Science top-of-the-line AED devices are voice activated and walks the first responder through all the steps needed to maximize the success of saving someone's life.
"The program that Bolt for the Heart has started has been tremendous," said Morgan County Sheriff Richard Myers, "My work with them through the state police in my prior career, outfitting all of our state trooper cars, and now working throughout the county with the county and city agencies and town marshals shows what kind of group this is and their dedication to getting us these life-saving devices. Every tool in the toolbox is something that you can utilize when trying to do everything possible to save someone's life."
White County Sheriff Bill Brooks was also present at the event. He said, "At the Winter Sheriff Conference, we were awarded an AED. We were one of the counties that did not have any devices in any of our squad cars. When the council saw that we did not have any, immediately they said 'we need to fix that problem.' We were one short when Performance Services called and offered to donate a device to us. That put one in every police vehicle and solved our problem within months. Performance Services did us a great service here and we are now 100% equipped."
Performance Services personally delivered the AED devices to those counties who could not be in attendance, inlcuding: Gibson, Fayette, Madison, and Porter.
Tim Thoman, President and CEO of Performance Services and Bolt for the Heart Board of Directors Member, thanks our Indiana County Sheriffs, our hometown heroes, for their service and is proud to make this contribution for the health and safety of the Sheriffs' communities.
"The impact of donating these AED devices to our IN-county Sheriff departments will last a lifetime," shared retired Sheriff Ken Fries, Correctional Consultant with Performance Services.