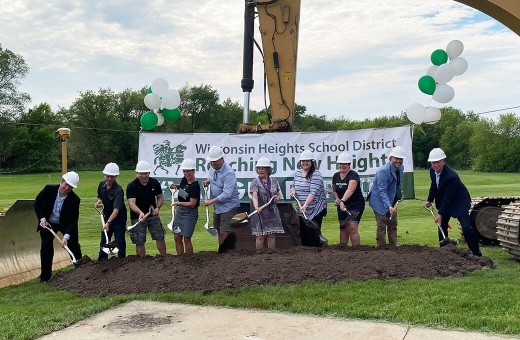 Mazomanie, WI. Wisconsin Heights School District celebrated the start of construction with a groundbreaking event at Wisconsin Heights Middle and High School, with funding for the new building addition receiving community referendum approval on November 3, 2020. The ceremonial turning of the dirt occurred on May 24, 2021, at 5:00 p.m.
The $27 million one campus project was defined based on a 2018 facilities study, enrollment study, and ongoing community engagement throughout 2020 to address critical infrastructure needs and accommodate current and future student enrollment growth.
"It is incredibly exciting for the District to see this project getting started. The improvements to the middle/high school, coupled with the construction of a new elementary school on a unified campus, will position Wisconsin Heights for success for years to come," said District Administrator, Dr. Jordan Sinz.
Project goals include:
A modern elementary school wing forming a single pre-K through grade 12 campus,
Replacing critical heating, ventilation, and air-conditioning (HVAC) equipment, including long-term maintenance and repairs, kitchen renovation, and restroom updates at the Middle/High school, and
Reducing operating expenses by operating fewer school buildings.
The elementary addition will include K-5 classrooms, a gym, cafeteria, media center, and administration suite. A new car drop-off loop and playgrounds for elementary students are also included in the project targeted for completion in 2022.