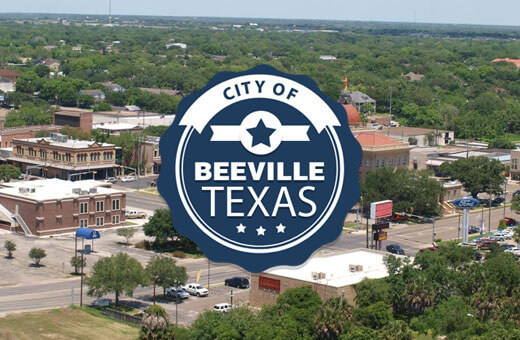 Beeville, TX. The City Council of Beeville voted on January 28th to move forward to modernize the City's aging water service infrastructure. The approved $5.1 million project will significantly improve operational efficiencies and allow the City's commercial and residential clients to access their water usage data in real time, for the first time.
"Renovating and restoring the City's decaying infrastructure continues to be my number one priority. I am proud to be joined by a council that has been laser focused on improving every part of the water system here in Beeville," said Brian Watson, Ward 5 Councilman.
The self-funding project creates positive cash flow from day one and the City expects to see $9.7 million in efficiency and operational savings over a 20-year time span making this a sound financial decision.
The City of Beeville selected Performance Services to replace all 5,192 of their existing water meters with new "smart meters" that will be connected to a secure Advanced Metering Infrastructure (AMI) network. This 21st-century technology will provide the City and residents with more visibility into their water usage and resources. One of the features of the new system will allow for monitoring of potential water leaks by setting up client notifications when water usage exceeds certain thresholds.
The City conducted a thorough evaluation of their aging water infrastructure and metering inefficiencies and decided to implement the project. The new smart water meters will replace mechanical meters that are over 20 years old and failing. The project also includes improvements to critical City infrastructure, including new LED lighting, heating, ventilation, and air conditioning (HVAC) equipment replacements, building automation controls, and power conditioning.
The project will use Master Meter, a global manufacturer of water meters that feature a new solid-state ultrasonic meter technology. Performance Services will also work with HydroPro Solutions, a distributor for Master Meter. The smart water meters will enable the City to reduce unaccounted water loss and to read water usage at the highest possible level of accuracy. The Master Meter Allegro AMI network is a communication network that will interface seamlessly with the City of Beeville's existing water clients and utility billing system. The network will capture meter data, such as water flow, reverse flow detection, and other operating data in real-time.
Once the network is online, City of Beeville clients will have access to the My Water Advisor client portal. This client portal, which can be found on the Apple App Store or Google Play, will provide residents of Beeville with real-time visibility into their water usage. The project is scheduled to commence installation in the Summer of 2020 with completion in the first quarter of 2021.
The City of Beeville Council will finance the project through an Energy Savings Performance Contract (ESPC), enabled by Texas Local Government Code 302. An ESPC allows a public entity to pay for efficiency improvements within their existing operating budget without raising taxes. Savings are generated from the installation of new, modern, and energy-efficient technology and equipment improvements.
Water Meter Replacement Project FAQs
Q: When will the water meters be installed?
Meters will be installed during the Summer and Fall of 2020.
Q: Will I be charged for the installation of the new meter?
You will not be charged for the installation of the new meter.
Q: Will my water bill increase?
As meters age, they tend to run slower and may not measure the water going through them. Depending on the age and accuracy of your existing meter or undetected leaks, you may experience a higher bill due to the accuracy of your new meter. The new meters will simply record consumption more accurately.
Q: Will my water service be interrupted during installation?
Yes, there will be a temporary service interruption while the meter is replaced, but typically less than 30 minutes. A project representative will notify each resident prior to the installation of the new meter.
Q: Do I need to be home for the meter replacement work?
No, you do not need to be home for the meter replacement to work.
Q: Who will install the new meters?
Contractors from Performance Services and Utility Metering Solutions will install the new meters. Work crews will wear logoed clothing and drive vehicles with the company name on them.