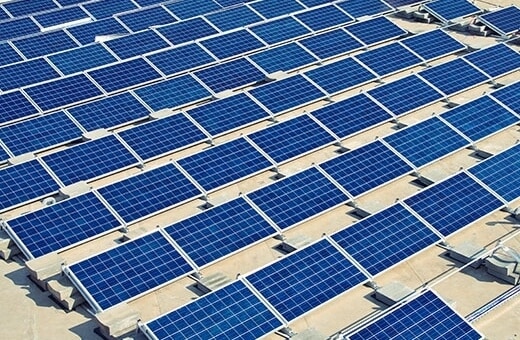 Mukwonago, WI. Construction is underway for a solar project to install 1,012 roof-mounted panels at Mukwonago High School thanks to a grant from the DSIRE Energy Innovation Grant Program and the Public Service Commission of Wisconsin's Office of Energy Innovation. Awarded this year, the 300 kWac solar arrays are expected to generate 471,000 kilowatt hours annually of clean, renewable energy and an estimated $41,000 in energy savings in the first year of operation at the recently renovated high school. Over a period of 30 years, the addition of solar power is expected to save $1.8 million in energy costs. The project is expected to be complete by fall 2019.
"The Mukwonago School District has a bright future. With the new state of the art solar array, the Mukwonago High School will be able to generate free power from the largest power source in the universe, the sun.  Along with these savings, we are excited about all the learning activities this project will foster for our students in the years to come," said Andy Wegner, Operations Manager Building and Grounds for Mukwonago School District.
The District partnered with Performance Services, Inc., an integrated design and delivery company specializing in high performance school buildings and accredited by the National Association of Energy Services Companies (NAESCO). The company has extensive experience with solar photovoltaic arrays at K-12 school districts.
In addition, a STEM-supported solar education component is available to utilize energy production data from the solar array in the classroom through a grant provided by Performance Services. "This is an important extension of our value proposition for schools to provide high performing, energy efficient buildings that provide optimal learning environments," said Tim Thoman, President and CEO of Performance Services. "The education component reinforces our commitment to our school clients in a way that directly benefits teachers and students by engaging and teaching how their own school's solar-generated electricity systems work."