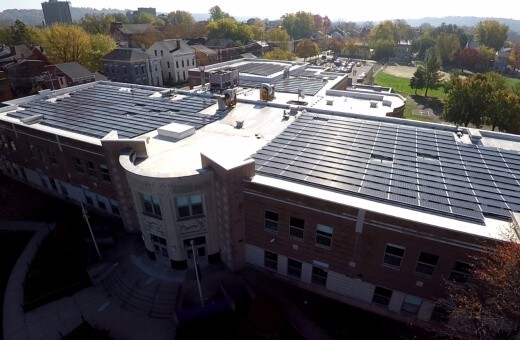 Covington, KY.  It has not been quite a year, but Covington Independent Public Schools is already reaping benefits from its energy savings project, which included the installation of rooftop solar arrays and converting the district's interior and exterior lights to LED high-efficiency lighting.
When Performance Services completed Covington's project in October 2017, it guaranteed that the district would see an annual energy savings of $256,981.  Early reports indicate the district will exceed that amount, according to representatives from Performance Services –Bob Wede, Regional Manager and Mike Lindsey, Performance Assurance and Energy Leadership Manager.  They presented the energy savings findings at the Covington Board of Education meeting on June 6.
Performance Services' first annual report is not due until September, but its representatives were eager to share its early findings. The project to date has reduced electricity use at the district by 1,958,331 kWh or 27.2% and natural gas use reduced by 13.2%, even with a heating day increase of 3%. The combined solar arrays produced 490,202 kilowatt hours of energy equivalent to 86% of normal production even with sun exposure at 79% of normal weather conditions expected for the area. The solar project was made possible through a net metering agreement with Duke Energy.
"This is great news for our district,'' said Covington Superintendent Alvin Garrison.  "We are saving money and the project resulted in improved learning environments for our students.  It's a win-win for Covington."
Covington entered into the Guaranteed Energy Savings Contract with Performance Services after extensive research to find a highly qualified provider to design and implement the district energy efficiency and safety project. The project meets the energy, efficiency, and safety needs of Covington's Facility Plan.  It resulted in much-needed improvements to all buildings throughout the school district, including an improved learning environment for students, enhanced maintenance and operations of facilities, and measured and verified energy savings.
Covington is one of the largest independent school district in the commonwealth of Kentucky, serving approximately 3,800 students.