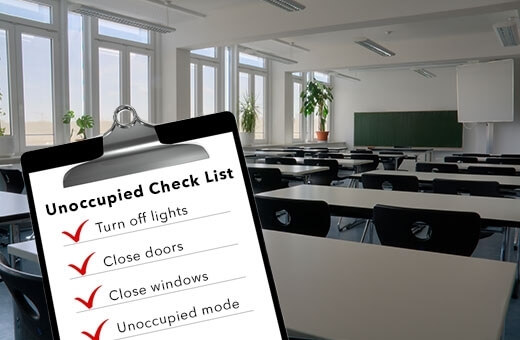 We understand that this is a challenging time for our clients.
We are in an unprecedented time. With the ongoing concern surrounding COVID-19 and the speed at which things are changing, we understand that schools, universities, and government entities are adapting operations to ensure the health and safety of their employees, staff, and students.
We're making sure your building is in unoccupied mode while you're out.
Performance Services is actively reviewing client building operations to determine if the building is occupied. If we find the building is in occupied mode, we will reach out to your designated facility contact and ask if they need assistance to place in unoccupied mode.
To save energy during building closure, we recommend implementing your normal extended break or holiday schedule and settings, including setting the building HVAC systems to UNOCCUPIED mode. For any ongoing services, operate those areas in normal occupied mode.
We are committed to serving our clients. If you have questions or require assistance, please contact Performance Services via the Customer Portal.
President and ceo