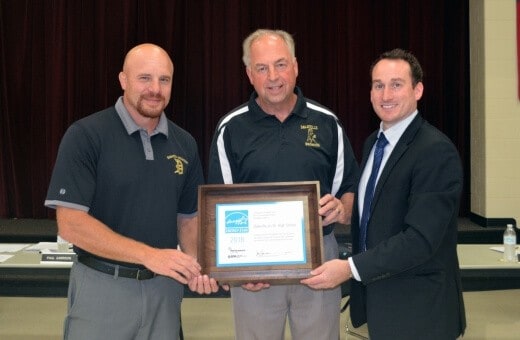 Daleville, IN. Daleville Community Schools has received notification from the U.S. Environmental Protection Agency (EPA) that Daleville Junior/Senior High School has earned the ENERGY STAR certification. Schools that are awarded ENERGY STAR represent the top 25 percent of similar buildings nationwide for energy efficiency and meet strict indoor air quality performance levels set by the EPA and as certified by a professional engineer.
Daleville enhanced energy conservation performance by making cost-effective improvements, reducing utility costs by $47,103, or 26% overall as measured for a two-year period ending November 2017. Electric usage reduced by 283,826 kilowatts (kWh) and natural gas usage reduced by 22,927 therms over the same period, eliminating 333 metric tons of greenhouse gas, the equivalent to the annual energy usage of 36 homes.
Paul Garrison, Superintendent of Daleville Community Schools said, "The project replaced HVAC equipment that was over 20 years old and was very inefficient. Not only did the project save energy and funds for the District, it provided much better air quality and comfort to our students and staff. Performance Services completed the work within the budget and the timeline we needed and expected."
Daleville Community Schools implemented the 2015 project through a guaranteed energy savings contract valued at $1,931,510 with Performance Services to design and install a mechanical renovation at Daleville Junior/Senior High School during a seven-week summer break period that aligned with the school's balanced calendar schedule.  The project improvements include: new ducted vertical classroom units, new high-efficiency boilers, new air-cooled chiller, variable speed drives on air handlers and pumps, a new high-efficiency domestic water heater, installation of CO2 sensors to monitor air quality, and modernization of the building automation system. A web-based digital controls workstation provides the District with the ability to remotely monitor and adjust classroom and building temperatures. The project commenced in June and was completed July 31, 2015.
Tim Thoman, President and CEO of Performance Services said, "We very much appreciate having the opportunity to work with Daleville administration and facilities teams to help reduce energy costs and enhance the learning and working environment. This was an aggressive project schedule and the collaboration was critical to complete the project before the start of school."
Daleville Community Schools serves approximately 945 K-12 students. The District has received numerous state and national academic awards. Daleville Junior-Senior High School currently has an A Rating from the Indiana Department of Education, is listed as an Indiana 4 Star School, and was identified by U.S. News & World Report in 2018 as one of the Best High Schools in America.
To learn more about earning the ENERGY STAR and for a complete list of ENERGY STAR labeled schools, visit http://www.epa.gov/