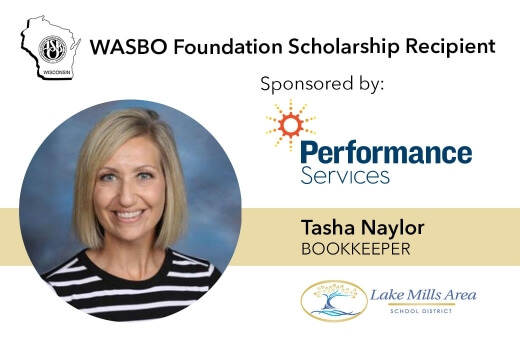 Madison, WI. Tasha Naylor, Bookkeeper for the Lake Mills Area School District, is the recipient of the $2,000 Dr. Bambi Statz Academic Scholarship, sponsored by Performance Services. This scholarship is presented to an individual who is currently working toward a degree and certification in school business management in Wisconsin. Applicants must be enrolled in an accredited university graduate program in Wisconsin leading toward initial 08 Certification. Naylor began her graduate studies at the University of Wisconsin Whitewater during the summer of 2019.
The $2,000 scholarship is in recognition of Dr. Bambi Statz's contributions to the school business management profession and is fully funded by Performance Services. Naylor will be recognized at WASBO's Fall Conference on October 15-16, 2020.
WASBO provides professional development for school business staff, fosters a network of support, and advocates for funding that ensures outstanding educational opportunities for all children in Wisconsin.