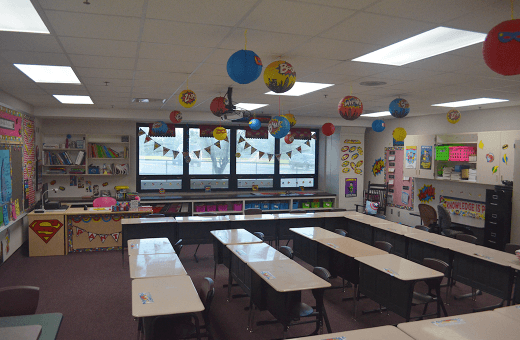 Valparaiso, IN. East Porter County School Corporation saw an actual energy cost reduction of $203,826 during the 2015-2016 school year after implementing a behavior-based energy conservation program coupled with facility energy improvements. In 2015, the school corporation selected Performance Services to implement a $7 million energy savings project in addition to an Energy Leadership program aimed at a sustainably reducing energy usage and cost. The contract guarantees $623,399 in energy and operational savings annually which will offset the cost of the project in ten years. Additionally, all four school buildings are expected to be ENERGY STAR certified in 2016 or early 2017.
As part of the behavior-based Energy Leadership program, the district hired Rebecca Juergens as Energy Manager to direct and oversee energy conservation measures at the school. With the assistance of Performance Services, Rebecca implemented a comprehensive energy awareness and education program which involved students at all grade levels. The program kicked off during Earth Week and included a logo contest for middle and high school students, "idea boxes" for submitting energy savings ideas, and "Jr. Energy Saver" badges for elementary students nominated to represent their class in energy leadership.
"We have seen great receptivity of the Energy Leadership program from staff, students, and administration. With collaboration from all parties, the corporation has been able to see significant energy savings of 29% (total BTU) district-wide," Juergens said. "I am grateful to have the opportunity to be a part of a school system that is taking the initiative to reduce the amount of energy consumed in each of our buildings while maintaining a comfortable learning environment."
Performance Services is an Indianapolis-based integrated design and delivery company that specializes in constructing and renovating schools, and renovating universities, healthcare, and government facilities to deliver optimal environments and high-performance buildings. Innovative renewable systems are integral to the energy services portfolio. The company has provided energy solutions to clients since 1998 and is a leading qualified provider of design-build, guaranteed energy savings projects, Energy Leadership programs and ENERGY STAR labeled schools.
Learn more about East Porter County School Corporation.