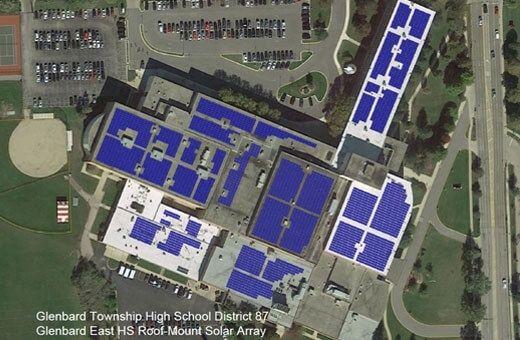 Illinois school district will implement solar power to secure $1.0 million in incentives and save $2.6 million in electricity costs over a 20-year period
Glen Ellyn, IL. The Glenbard Township HSD 87 School Board has announced approval of a solar renewable energy project at their March 9th board meeting. The $2.7 million roof-mounted solar project will be implemented at Glenbard East High School and include over 2,900 solar panels. The solar array is expected to generate an average annual production of 1.4 million kilowatt hours of electricity, equivalent to powering 116 homes and avoiding 1,003 metric tons of CO2 emissions each year. In addition, the project is slated to receive $1.0 million in rebates and incentives to offset the project cost. Construction is scheduled to commence in May with the new solar system expected to be complete and generating power by November 30th of this year.
"We are excited about moving forward on a solar project at Glenbard East," said Superintendent David Larson. "This system will deliver significant cost savings and a clean, sustainable energy source long into the future. The system will also provide our students and staff with a rich learning opportunity."
"We are pleased to provide a renewable energy solution that delivers strong financial returns and environmental benefits to Glenbard and the community." said Bob Wede, business development manager at Performance Services. "In addition to these benefits, the project is complemented by a solar curriculum program delivered through our partnership with the National Energy Education Development (NEED) Project, which will enable teachers and students to study and learn from their very own solar system," Wede added.
Glenbard Township High School District 87 is the third largest high school district in Illinois, serving approximately 8,000 students across four high schools. The District is nationally recognized for academic excellence.