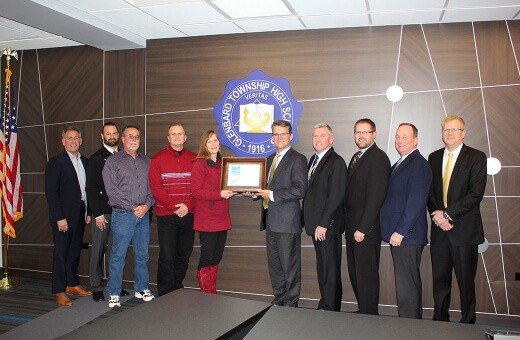 Glen Ellyn, IL. Glenbard Township High School District 87 has received notification from the U.S. Environmental Protection Agency (EPA) that Glenbard North High School and Glenbard West High School have earned the ENERGY STAR certification. These two schools are distinguished among the top public schools in the state and nation for superior energy performance. Schools that earn the ENERGY STAR use less energy than most buildings and release fewer greenhouse gas emissions into the atmosphere. Indoor air quality standards are also an important part of the qualification criteria that must be certified by a professional engineer. The District received the award and project summary from Performance Services, qualified provider for the project, and is working with the company and ENERGY STAR to certify Glenbard East High School in early 2019. More investment is needed at Glenbard South High School before Glenbard would submit for ENERGY STAR certification.
Glenbard District 87 enhanced energy conservation performance by making cost-effective improvements across their campuses. The District reduced utility costs by $233,500 in 2017 and are on pace to save $385,670 in 2018. Electric usage for 2017 was reduced by over 1.4 million kilowatts (kWh) in 2017 or 10 percent, despite the addition of air conditioning in a large number of spaces, and is projected to significantly exceed that amount in 2018. The total natural gas usage was reduced by 50 percent or 412,751 therms in 2017, and will also exceed that amount in 2018. Overall environmental impact in 2017 included the elimination of 3,262 metric tons of greenhouse gas, the equivalent to the annual energy usage of 352 homes.

"We are pleased to be recognized nationally by the EPA for these certifications. Achieving the ENERGY STAR was the result of a collaborative effort with Performance Services and all our staff members in the design and use of energy efficient systems.  Through our partnership, we have been able to air condition two of our schools, improve our learning environment, and significantly reduce our utility bills."
Assistant Superintendent for Finance and Operations/CSBO
In 2015, Glenbard District 87 first partnered with Performance Services to implement guaranteed energy savings projects to complete much-needed renovations across the District.
The projects included a fast-track schedule renovation during the summer break for mechanical, electrical and plumbing for a science classroom addition, air conditioning, central plant modernization, and energy conservation improvements throughout the schools. Other improvements included: learning environment in classrooms, upgraded temperature control systems, new air handlers, and pumps, central plant upgrades, new variable speed frequency drives to control motor fan speed, new domestic hot water heaters, LED lighting, and a 2kW solar energy system for use in classrooms.
Tim Thoman, President of Performance Services, an ENERGY STAR Partner, presented the ENERGY STAR plaques, stating, "We are very pleased with the results of the work implemented at Glenbard. This certification is evidence from the EPA of not only the increased efficiency of schools, but more importantly, the improved indoor air quality including sufficient lighting levels, appropriate CO2 ranges, and temperatures. This is critical to creating a healthy learning and working environment for students and staff."
Glenbard Township High School District 87 is the third largest high school district in Illinois, serving approximately 8,000 students across four high schools. The District is nationally recognized for academic excellence.