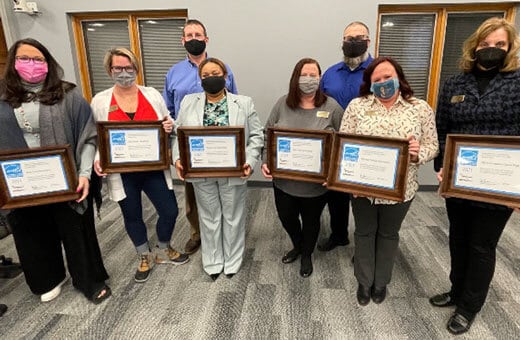 Fishers, IN. Hamilton Southeastern Schools (HSE) was presented with plaques at Wednesday night's board meeting for earning the U.S. Environmental Protection Agency's (EPA) ENERGY STAR® certification for superior energy performance at six district schools: Hamilton Southeastern Intermediate Junior High, Harrison Parkway Elementary, New Britton Elementary, Sand Creek Elementary, Sand Creek Intermediate, and Thorpe Creek Elementary. Schools awarded the ENERGY STAR® certification perform in the top 25 percent of buildings nationwide, based on weather-normalized source energy and indoor air quality standards as certified by a professional engineer.
In 2008, Hamilton Southeastern Schools (HSE) was experiencing elevated energy costs due to aging, ineffective building controls and other issues that caused temperature fluctuation and uneven air distribution in the classrooms. In 2009, HSE partnered with Performance Services to implement the first Guaranteed Energy Savings project to invest in cost-effective capital improvements that maximize energy savings. Energy savings generated from the project were slated to cover project cost over a ten-year term; however, the project paid for itself in only five years.
Since then, HSE has completed seven energy-focused building projects and implemented Energy Leadership, a behavioral-based energy conservation program.
The total cost of all project phases is $14,788,927 and is funded with energy and operational savings. This entire effort has reduced HSE's utility consumption by 16.7% and achieved over $2 million in annual savings. More recently, in 2019, the school district's annual energy cost was down 15% compared to 2010 despite significant increases in utility rates and expansions to the total building area.
"We are pleased to be recognized nationally by the EPA for our conservation efforts. Achieving the ENERGY STAR® at these facilities is the result of a collaboration between Performance Services and our staff members in the design and use of energy-efficient systems. Through our long-term partnership, we have realized significant financial savings from reduced energy usage and provided a safe and comfortable learning environment for our students and staff," said Harry Delk's, HSE Facilities Director.
Hamilton Southeastern Schools is one of the largest school districts in Indiana, serving approximately 21,500 students across 22 schools. HSE is an "A" rated school corporation by the Indiana Department of Education.
Performance Services has served the learning environment and energy efficiency needs of public schools since 1998. The company is a leading qualified provider of design-build and guaranteed energy savings projects and specializes in major renovations, new building construction, solar power and Energy Leadership programs for K-12 schools and municipalities. Corporate headquarters is located in Indianapolis, Indiana.