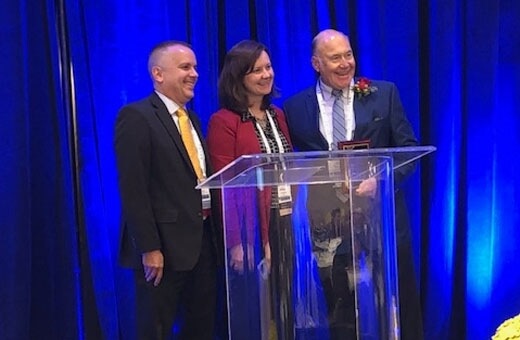 Jim Beckmann, Director of Facilities, Glendale-River Hills School District, Receives 2018 Mike Roshar WASBO Shining Star Award.
Jim was nominated by the WASBO School Facilities Committee in recognition of his continuous work serving WASBO members. In his current role with the Glendale-River Hills School District and as an Education Consultant for Performance Services, Jim has offered his time as co-chair of the Midwest Facility Masters Conference committee, former co-chair of the WASBO School Facilities Committee, frequent conference presenter and contributor to the Facilities Manager Certification Program. Jim also served as WASBO Director from 201-2016.
From his several nomination letters, all continually reference Jim's exemplary passion and commitment to developing relationships within WASBO, his district, and across the region. One letter noted, "Jim continually demonstrates positive energy and passion for the profession by leading by example and demonstrating what a positive role model he truly is. WASBO has flourished with his leadership, talent, and dependability over the years."
"Anyone that knows Jim understands that he has an outgoing personality and is never at a loss for words. He uses these great qualities to reach out to others, share experiences, learn from others, and teach others. He possesses all of the great qualities that you look for in a leader: honesty, integrity, great work ethic, positive leadership, creativity, and compassion," noted another.