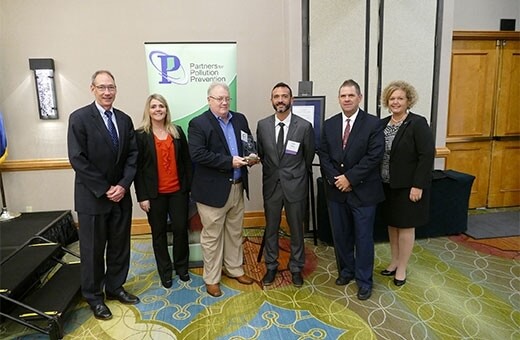 Michigan City, IN – Michigan City Area Schools, in partnership with Performance Services, Inc., has received a 2018 Governor's Award for Environmental Excellence in the Renewable Energy Category. The award was presented on September 19 by the Indiana Department of Environmental Management (IDEM) at its 21st Annual Pollution Prevention Conference and Trade Show in Indianapolis.
The MCAS Solar and LED project, which was completed last December, is the largest for any school district in Indiana and the Midwest to date. It consists of ground-mount photovoltaic (PV) arrays and LED lighting upgrades at seven school property locations: Joy Elementary, Niemann Elementary, Pine Elementary, Barker Middle School, Krueger Middle School, Michigan City Area High School and the MCAS Administration Building. The solar arrays provide 2.83 megawatts (dc) of clean, renewable energy and, in combination with the LED lighting upgrades, offset approximately 52 percent of combined electricity usage at these locations, with expected net energy savings of $23 million over 30 years. The project is made possible due to Indiana net metering benefits for renewable systems and a guaranteed energy savings project with Performance Services. A companion solar curriculum program developed by the National Energy Education Development (NEED) project and sponsored by Performance Services is in use in MCAS classrooms across the district.

"We are thrilled to be recognized with the Governor's award. This project has helped us move toward 'greener' and more efficient buildings, and it is being financed through energy savings at no cost to taxpayers. This will benefit Michigan City Area Schools and our community for years to come."
Michigan City Area Schools Superintendent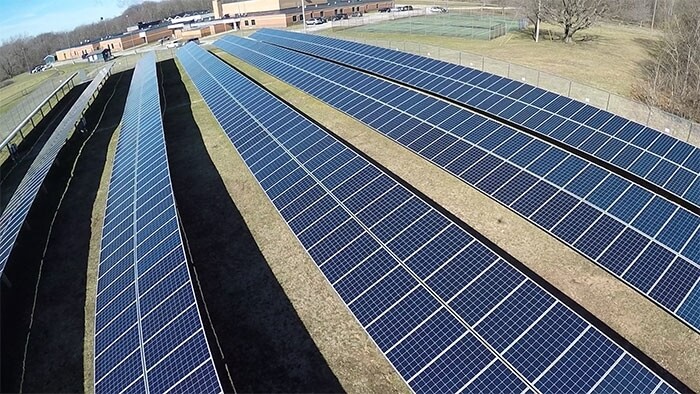 "Michigan City Area Schools is an excellent example of how the innovative use of renewable energy can significantly reduce operating costs and reduce greenhouse gas pollution for Indiana schools. We are impressed with the initiative and passion brought to this project. The NEED.org solar curriculum reinforces our commitment to education that directly benefits students by engaging and teaching how their very own school's solar-generated system works," said Tim Thoman, President and CEO of Performance Services.
The Solar and LED project complements Michigan City Area Schools' continuum of STEM, Energy, and Environmental Science programs for students. MCAS also received Governor's Awards from IDEM in 2013 (for Krueger Middle School's environmental science program) and in 2017 (for the Michigan City High School Wolves Environmental Restoration Team's Hansen Park project, in partnership with the City of Michigan City).