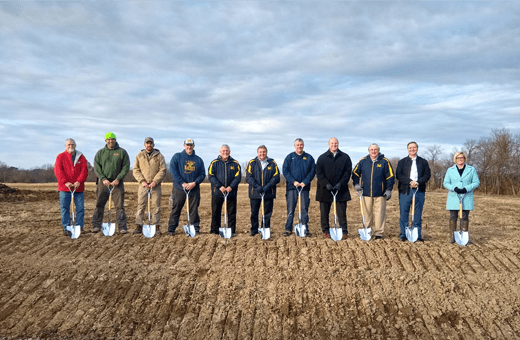 Mooresville, IN. Equipment will begin rolling soon to pave the way for a brand new Mooresville Schools Transportation Center. School district leaders will host a groundbreaking ceremony on Thursday, November 14, at 4:00p.m. Eastern Time.
Mooresville Consolidated School Corporation will break ground on part of the 53-acre plot, currently undeveloped farmland, for the home of the district's new Transportation Center. This project will relocate the school's fleet of school buses from the old converted car dealership to this new facility that will allow for greater efficiency for maintenance and repair. The new facility will also improve bus circulation, accommodate parking for 55 school buses with block heaters, provide space for seven activity buses, and allow convenient parking for roughly 75 personal vehicles—drivers, aides, staff, and mechanics. The Transportation Center will house the transportation offices and have two drive-through bays and a single dedicated pull-in bay for mechanics and major repairs. Target date for substantial completion is July 2020.

"As Mooresville Schools continues to progress and grow, we are extremely excited to get underway with this much needed improvement to our district. Through the foresight and commitment of our Board of Trustees and administration, we will now have a prime location and state-of-the-art facility that will serve the students and families of the Mooresville community for many years to come."
Assistant Superintendent for Business
The Mooresville Schools Technical Review Committee selected the Performance Services' design-build team, which will best support the school's goals for this project. Performance Services' design team partners include: American Structurepoint, Inc., Lynch, Harrison, Brumleve, Inc., and Hoosier Equipment. Local trade contractors include: Sunco Construction, Hilltop Farms Excavating, Wallace Construction and Marion Adams Flooring.
Mooresville Schools serves approximately 4,500 students in grades Pre-K through 12. Learn more at www.mooresvilleschools.org.