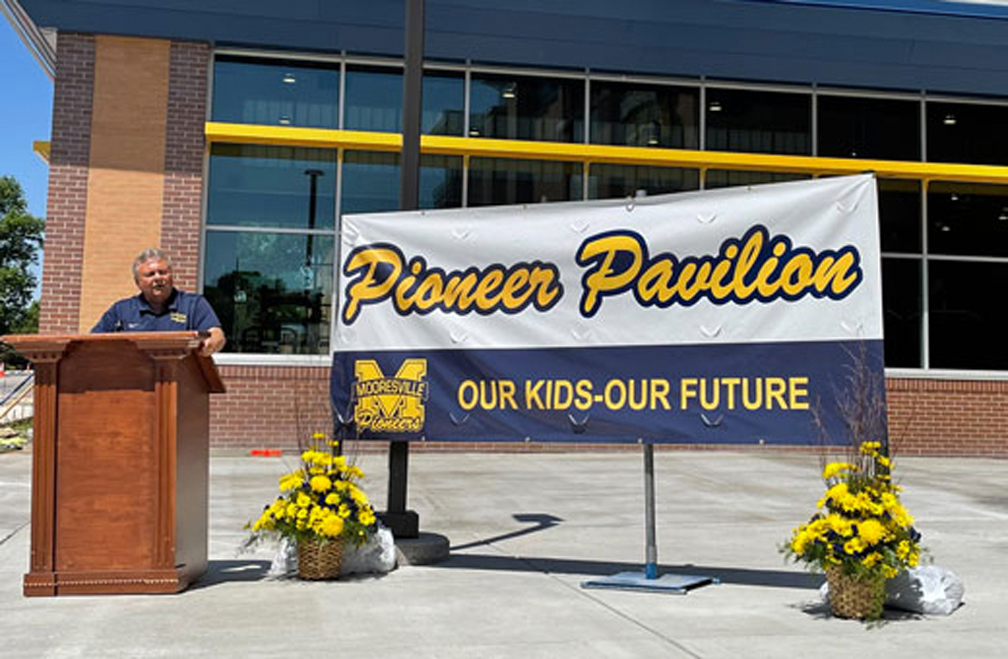 Mooresville, IN. Mooresville Schools celebrated the completion of its new Pioneer Pavilion and Pioneer Practice Facility on Friday, June 3, 2022, at noon. Following the ceremonial ribbon-cutting, the District's Food Services provided lunch featuring Tilapia grown by the Mooresville Schools' Agriscience students.
"The Pioneer Pavilion brings opportunities for our students, families, and community," said Mooresville Schools Superintendent Randy Taylor. "Not only will this facility benefit our middle and high school student-athletes, it also provides much-needed space to expand opportunities for performing arts and community events."
The District was able to fund the $14.9 million design and construction of the project with no tax increase to their current debt service. Mooresville used the progressive design-build delivery method. Performance Services, an Indianapolis-based design-builder, was selected following a competitive process in 2020.
The new Pioneer Pavilion incorporates a state-of-the-art athletic complex and an expansion of the existing cafeteria, and a state-of-the-art academic instruction area. The District's objectives included maintaining the history and culture of the high school and athletic success while modernizing and improving the campus.
Following a naming contest, Mooresville freshmen students Craig Teike and Kalyn Bunch submitted the winning name for the project, "Pioneer Pavilion," in April 2021.
Project Highlights
The new fitness center is abundant with natural light, visual transparency, and an elevated fitness track. The addition features seamless connectivity with adjacent spaces.
Expanded cafeteria and seating. Additionally, this space can be used as a common space for large events or gatherings and will be an inviting and pleasing space for the community.
New fieldhouse for multipurpose use and enriched with school spirit.
A new wrestling room is incorporated into the athletic complex with adjacencies to the fieldhouse and fitness center. Athletic support spaces include a training room, hospitality suite, community room, locker rooms, storage, and official's suite.
New state-of-the-art academic instruction area with some of the latest educational technology.