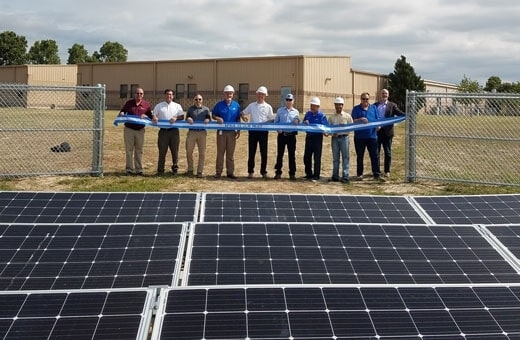 Devine, TX. Natalia ISD fulfilled an important goal on July 11th, 2019 when their new solar array began to produce energy, powered by the sun. The 197.1 kilowatt (kW) ground-mounted solar array consists of 540 panels and is expected to generate 295,000 kW hours per year, the equivalent to the electricity use of 36 homes. To celebrate the completion of the school-owned system, the district will host a ribbon cutting event on July 23rd at 10:30 AM.
After a year of planning, the solar project is part of a larger guaranteed energy savings project with Performance Services, Inc. valued at 1.9 million dollars. The school improvements are paid by increased energy savings that are guaranteed by law and impose no additional cost to Natalia ISD's budget nor increase in taxes.
In addition to solar energy, the project improvements include LED lighting upgrades, the sealing of building envelopes, and security upgrades—including access control and a secure main entrance at the High School. The district is also replacing 48 HVAC units to provide significant energy savings and a comfortable learning environment for students. In total, the project guarantees $118,825 in annual energy savings for 20 years of which $25,167 annual savings is a result of the addition of the solar project.
Dr. Hensley Cone, Superintendent of Schools of Natalia ISD said, "The district has been fortunate to work with Performance Services to provide higher quality learning environments with both reduced energy consumption and increase security without costing the Natalia ISD residents additional tax dollars."
Also, a classroom grant is being provided by Performance Services to enable the new solar array to be used as a learning laboratory. The company is a Partner to the National Energy Education Development (NEED) project to provide teacher training, K12 curriculum, and classroom solar kits. "Providing a learning opportunity aligned with national and state learning standards is an important extension of our value proposition for Texas schools, said Jim Adams, General Manager for Performance Services. Jim added, "The education component reinforces our commitment to renewable energy and education in a both a meaningful and exciting way that directly benefits students on how their own school's solar-generated electricity system works."
Performance Services specializes in renovating education and municipal facilities to deliver high performing buildings with optimal environments.  Renewable solar energy is an important part of the portfolio of services. The company is a qualified provider of energy savings performance projects and Energy Leadership programs and has helped clients achieve the ENERGY STAR label at more than 130 buildings to date. Performance Services partners with licensed air conditioning/refrigeration and electrical contractors to implement all electrical and HVAC solutions in accordance with Texas law.