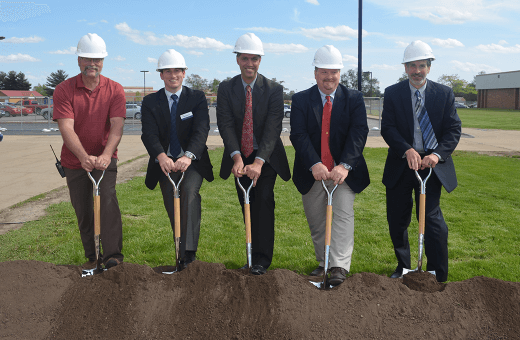 New Carlisle, IN–New Prairie United School Corporation (NPUSC) hosted a groundbreaking ceremony on May 22nd at New Prairie High School to signal the start of construction of a $40 million building renovation and school safety project approved by referendum on May 3, 2016.
The project includes major renovations and additions to New Prairie High School, originally constructed in 1968. About 70 percent of the total project budget will address renovation, infrastructure, and mechanical and reconfiguration improvements at the high school, including a new main entrance, a "Hall of Excellence", traffic circulation redesign, and a new 1,200-seat auditorium. Renovations at New Prairie Middle School will include a new gymnatorium. Olive Township, Rolling Prairie and Prairie View Elementary Schools will receive a host of essential infrastructure improvements. A comprehensive list of renovations was previously shared by NPUSC with the community. The target date for completion is in late 2019.
The New Prairie technical review committee for the project chose the Performance Services' (PSI) design-build team at a meeting held in October 2016 as part of a competitive process. PSI design partners include Barton-Coe-Vilamaa, Context LLC, Veridus Group, Lynch, Harrison & Brumleve, C&T Design and Equipment, DSA Inc., and Technology Dynamics.

"New Prairie United School Corporation is honored and excited to get our renovation project started.  Work at our Elementary Schools has already begun, and we look forward to the work getting started at the secondary buildings.  We appreciate the work Performance Services and their design-build team partners are doing to make our vision for 21st Century learning facilities a reality for our students."
New Prairie United School Corporation Superintendent
NPUSC is comprised of a high school, middle school, and three elementary schools and serves approximately 3,000 students. Additional information may be obtained at http://www.npusc.k12.in.us/. Event photos http://bit.ly/2qntb0Y