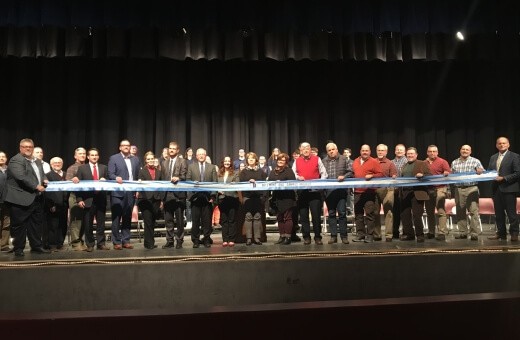 Decatur, IN.–North Adams Community Schools invited the community to celebrate its One Campus Project at a Dedication Program and Ribbon-Cutting Ceremony on Thursday, November 14. The dedication program and ribbon cutting ceremony will be held at 4:30 PM Eastern Time in the Erekson Theatre at Bellmont High School, 1000 North Adams Drive, Decatur, IN. An Open House was held to tour the facility immediately following the ceremony.
"With the support of our community, we have been given an opportunity to invest in our district in a way that will serve our students and our community for many years to come," shared Brent Lehman, superintendent of North Adams Community Schools. "We wish to welcome our community to celebrate this historic milestone in our district with us, and take part in a celebration of the support that we have received to bring our district to this momentous place in its history."
North Adams Community Schools recently completed a $35 million "One Campus Project" which included major renovations to Bellmont High School and Bellmont Middle School, originally constructed in 1968 and 1991, respectively. In addition, two existing elementary schools, Northwest and Southeast, transitioned to one building under a new name, "Bellmont Elementary School," which first opened in August 2019, on the same campus grounds as Bellmont High School and Bellmont Middle School.
"The pride that exists in our school community is enthusiastic," Lehman added. "While we closed a chapter in the history of our Northwest and Southeast elementary schools, the pride and the spirit that remains for our district and our school is no lesser. We opened a new elementary with equal heart and excitement for what the education and future of our district holds. Our passion for educating students is our foundation. Our strength in the unity of our campus is greater. And our pride is unprecedented. I am so proud to be a part of this team and I am grateful to celebrate all that we will accomplish together, as one Bellmont."
A significant portion of the design-build project addressed interior renovations, mechanical, electrical, plumbing infrastructure and a reconfiguring of learning spaces and site improvements at the high school. Bellmont Middle School received interior renovations and included 21-century learning environment spaces. The Bellmont One Campus Project completed in the Fall of 2019.
Performance Services' design team partners included: Barton-Coe-Vilamaa, Context LLC, Veridus Group, Lynch, Harrison & Bumleve, MLS Engineering, C&T Design and Equipment, Gaylor Electric, Heapy Engineering and Technology Dynamics.