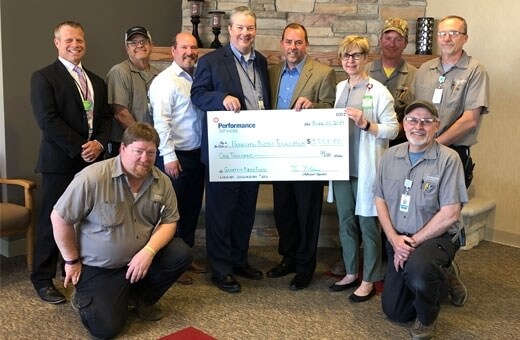 Kendallville, IN – Earlier today Gary Adkins, president, Parkview Noble Hospital and Cathy Linsenmayer, director, Parkview Noble Foundation accepted a $1,000 donation from Performance Services. Jim Christie, business development manager, Performance Services presented the check to the Foundation. The gift will be designated to the Parkview Noble Foundation's Greatest Need fund which assists with hospital programs and equipment that provide "above and beyond" health experiences for patients and families in Noble County.
Performance Services recently completed a $1.2 million heating and air conditioning (HVAC) renovation project for Parkview Noble Hospital. The project is a part of the hospital's larger strategic initiative to make the hospital more energy efficient. The project upgraded the HVAC system with digital controls, optimizing the building environment throughout the changing seasons. The automation of the new HVAC system allows the hospital to have precise control of the temperature, humidity, and pressure through the building, including the internal environment in their critical operating spaces. The project was completed in June 2018.
Thanks to this project and additional energy reduction efforts made by the Parkview Facilities Team, Parkview Noble Hospital is not only close to achieving ENERGY STAR Certification in 2019, but they are also realizing significant savings on utility bill expenses because of their ability to optimize their HVAC system when part of the building is not in use.
"Performance Services has exceeded my expectations with this very unique operating room and hospital controls project," said Scott Burcroff, Parkview Health Technical Operations Manager. "I have been extremely impressed with their attention to detail and completeness in all areas: engineering, project management, and building automation. I would highly recommend Performance Services for their turnkey MEP project delivery approach when doing any central plant or critical space project."