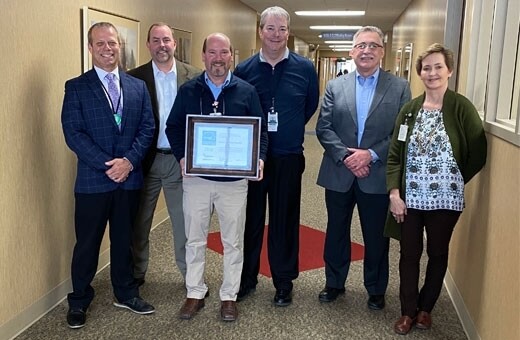 Kendallville, Ind. – Parkview Noble Hospital has achieved the ENERGY STAR label, a symbol of energy efficiency and environmental excellence from the U.S. Environmental Protection Agency (EPA) and ENERGY STAR program. It is one of only five hospitals in Indiana to ever earn this distinction.
Earning the ENERGY STAR distinguishes the hospital as being in the top 25% of energy efficient buildings for its size and type in the nation. Hospitals that earn the ENERGY STAR label use less energy and have indoor air quality certified as part of the qualification criteria that must be affirmed by a professional engineer. For point of reference, the hospital's ENERGY STAR score was 45 as measured in 2016. After improvements were made in 2018, Parkview Noble Hospital received a qualifying score of 78 in January 2019. A minimum qualifying score is 75 as defined by the EPA. This translates to annual utility cost savings of approximately $80,000 for the hospital.
Richard Larimore, facilities manager at Parkview Noble Hospital, commented on how proud he is to be part of an organization that is willing to invest in energy efficient initiatives. "Through this initiative we are able to have a considerable positive impact on the environment and energy costs," said Larimore. "Our entire facilities team continues to implement energy savings strategies such as our conversion to LED lighting, energy efficient motors, motion occupancy sensors and temperature control setback schedules, among others."
Performance Services, an ENERGY STAR Partner and high-performance building specialist, was selected to partner with Parkview Noble Hospital to develop a project that included a complete digital temperature controls upgrade for the entire hospital. The project also included upgrading the HVAC system to make it more energy efficient. Additionally, air handling units were upgraded, and fan walls were installed for redundancy and reliability. The resulting benefit provides precise control of temperature, humidity, and pressure in the operating rooms. A four-season optimization was also implemented to control and stabilize the indoor air environment throughout the changing seasons.
"Like any hospital, Parkview Noble Hospital is a 24/7 facility. The goal of the project was to enable better control over the internal environment including our critical spaces, while also reducing energy costs. It is the partnership between Performance Services and the continued efforts of our dedicated facilities team that have enabled us to deliver successful results for the second year in a row, with approximately $80 thousand dollars in energy savings this year," said Gary Adkins, president, Parkview Noble Hospital. "These results have, in turn, brought recognition from the United States EPA to northeast Indiana and the region. We're very proud to have Parkview Noble Hospital receive recognition for these efforts."
Scott Burcroff, CHFM, CHEP, technical operations manager for Parkview Noble Hospital commented, "Performance Services has exceeded my expectations with this very difficult operating room and hospital controls project. I have been extremely impressed with their attention to detail and completeness in all areas, including engineering, project management, and building automation."
Jim Christie, business development manager for Performance Services, stated "We are very pleased with the results of the work implemented at Parkview Noble Hospital. The ENERGY STAR is a symbol and evidence of not only energy efficiency, but more importantly, the improved indoor air quality which is so critical and exacting for a healthcare facility."