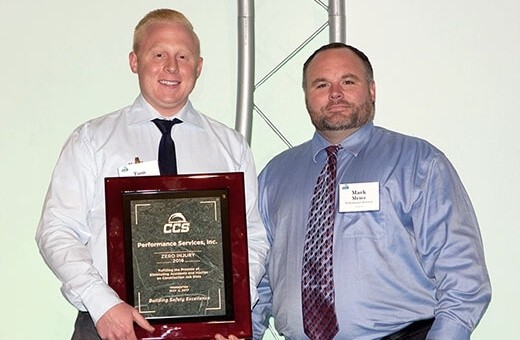 Performance Services, a Qualified Contractor with the Coalition for Construction Safety (CCS), has been awarded the Zero Injury Award for 2016. The award is earned by companies whose craft persons working for the company have not suffered a work-related incident resulting in loss of consciousness, restriction of work or motion, transfer to another job or requiring medical treatment other than first aid for the past calendar year.
During 2016, Performance Services employed an average of 113 full-time employees resulting in 231,920 hours worked without a recordable injury. With contractors spanning multiple states participating in the CCS program, Performance Services was selected as one of 24 companies to receive the Zero Injury Award. Tom LeStourgeon, safety administrator, Mark Meier, senior project manager, and Kim Mouton, human resources manager, represented the company at the CCS Awards Banquet on May 4, 2017. The company's Experience Modification Rate (EMR) is 0.72, compared to an industry average of 1.00. The last recordable incident was September 9, 2011.
To learn more about the CCS certification program, visit http://www.ccscertification.org.