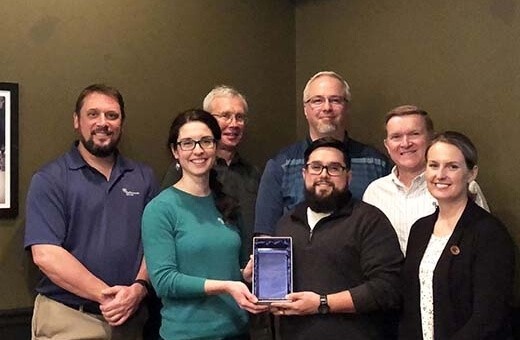 Indianapolis, IN. Performance Services is recognized as the top trade ally network provider by Lockheed Martin Energy for the company's efforts in assisting Northern Indiana Public Service Company (NIPSCO) clients to save 162,000 therms of energy in 2017– the equivalent of greenhouse gas emissions from 939,742 pounds of burned coal.  "As an active member of the Lockheed Martin Energy Trade Ally Network, we're proud to have Performance Services in our network to provide NIPSCO clients with energy saving solutions for their businesses," said Chad Ritchie, Lockheed Martin Energy's Program Manager. "Our trade allies are crucial to the success of the NIPSCO Business Energy Efficiency programs and we count on companies like Performance Services to deliver results."
NIPSCO's Energy Efficiency Programs offer financial incentives to qualifying commercial, industrial, non-profit, governmental and institutional clients for installing new energy-saving equipment. Incentives are calculated based on the estimated reduction in kilowatt-hours (kWh) and/or therms from implementation of the energy efficiency project. Incentives are paid at $0.80/therm reduced for projects involving gas savings.
Eligible projects include retrofitting or replacing existing equipment/systems that result in energy savings. Qualifying projects can include but are not limited to, lighting, HVAC, compressed air, refrigeration, food service, motors, data centers and IT system projects. All projects must be completed by November 9, 2018, in order to be eligible for incentives.
In 2017, Performance Services' clients saved 672,000 kilowatt-hours and 162,408 therms and have reaped the rewards of over $178,000 in NIPSCO incentives.
"Since the company was founded in 1998, Performance Services has helped clients significantly lower utility bills and improve their learning and working environments. A natural extension of our value proposition includes our work helping clients' secure maximum utility incentives," said Tony Kuykendall, business development manager.
NIPSCO's commercial, industrial and non‐profit energy efficiency programs are administered by Lockheed Martin Energy, a third‐party implementation specialist that helps businesses and institutions save energy.