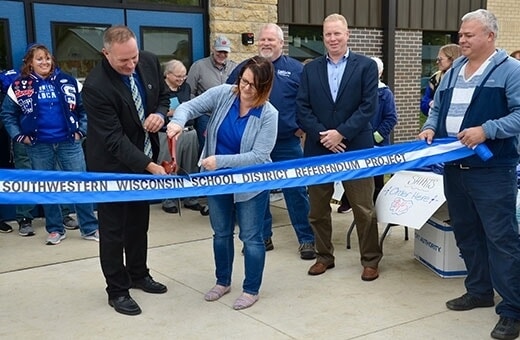 Hazel Green, WI – Southwestern Wisconsin School District hosted an open house on Friday, September 28, to highlight referendum project improvements at Southwestern High School. The event included a ribbon cutting ceremony, followed by school tours.
The $10 million project was approved by community referendum in April 2017 and is set for completion in November 2018. The project included the relocation of the middle school to the high school, secure entries and middle school classrooms, a dedicated middle school band facility, a public fitness facility, and a performing arts and activity center, in addition to educational and safety upgrades throughout the building. During the open house, parents, students, and staff were invited to view the school renovations and enjoy homecoming festivities.
The event served as a thank you to the Southwestern Wisconsin community for supporting the referendum project. Numerous people from staff, school board, parent organizations, and the community have assisted with the project. Without their generous support, the referendum project would not have been a success.
Southwestern Wisconsin School District serves 520 students. Additional information can be obtained at https://www.swsd.k12.wi.us/