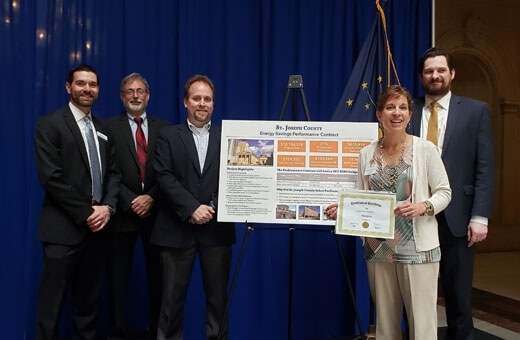 South Bend, IN. – The Indiana Energy Services Coalition celebrated Legislative Day at the Indiana Statehouse South Atrium today and presented the "2019 Most Outstanding Project Overall" award to St. Joseph County for their 2017-2019 guaranteed energy savings project. Accepting the award on behalf of St. Joseph County was Deborah Fleming, Board of Commissioners, and Corey Noland, Councilman for District B. The $10.1 million project was financed through a 15-year performance contract in 2017 with qualified provider Performance Services. The project has provided significant community infrastructure improvements to the county and reduced energy consumption by 31 percent. The project will reach substantial completion in May 2019. The community-focused project includes energy upgrades to all 11 county buildings and 7 highway garages along with replacing streetlights. This project will have a NET ZERO budget impact over the term of the bond.
BUILDING IMPROVEMENTS
High-efficiency lighting
Replace, add or optimize building control systems
New boilers and chillers
Variable frequency drives
New lighting and security/fire system at Portage Manor
New building control system at the History Museum
Complete HVAC retrofit at the Juvenile Justice Center
Extensive upgrade to Bendix Woods HVAC system
New high efficiency lighting and new well and pump house at St. Patrick's Park
WATER CONSERVATION MEASURES
Water control technology, low flow plumbing fixtures, flush valves, and faucet aerators
Appropriate sizing of main water meters
ENERGY LEADERSHIP PROGRAM
An Energy Conservation Manager will provide focus and continual monitoring to ensure the County buildings achieve maximum utility savings while ensuring occupant comfort.
Corey Noland, St. Joseph Council Member, commented about the project, "To me this award signifies so much more than identifying a successful Guaranteed Energy Savings project – it represents how effective a dedicated group of local Government officials can be when everyone is working in a collaborative manner to attain the best possible results for our constituents. Creating efficiencies and sustainability are buzz words that nearly everyone talks about these days but these are undeniable results of this project. Even more important than the $615,000 in annual utility cost reductions is the two full-time maintenance staff employees that will now be able to focus more on predictive and preventative maintenance procedures as opposed to changing light bulbs and constantly battling with HVAC controls."