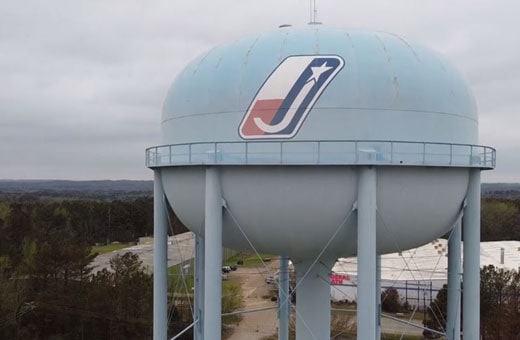 Jacksonville, TX. Greg Smith, City Manager, addressed the public at the State of The City address this evening, including crediting the 2019 smart water project initiative for conserving the City millions of gallons of water during the February unprecedented winter storm.
Faced with aging water meters and inefficient metering, the City of Jacksonville, entered into an Energy Savings Performance Contract in December of 2018 to replace all 5,452 existing water meters with new "smart meters." This new advanced metering infrastructure (AMI) technology provides the City and residents with more visibility into their water usage with online monitoring tools on a secure network. The City can now monitor pressure throughout the water distribution system. Additionally, because of Smith's forethought to better prepare for natural disasters, a radio-controlled auto-shut-off design feature is included to enable the City to shut off all residential water meters, if necessary.
When Texas temperatures dropped well below freezing on February 12th, the system was put into action, and some water shut-offs began. This saved the City millions of gallons of potential water loss and prevented devastating damage to the water pipe infrastructure. Greg Smith commented, "If it were not for this project, our water loss from this storm would have been staggering, and our residents could have seen a much worse situation.  But with this project, we were able to proactively save water and prevent countless homes from extended water damage," continued Greg Smith.
City of Jacksonville Public & Community Services Director, Randall Chandler, added, "With the intuitive data provided by the Sensus metering products, coupled with the Sensus Analytics operating platform, we were able to make real-time decisions based upon real-time data, which would otherwise have been impossible with the use of a conventional water meter system."
The City of Jacksonville partnered with Performance Services and financed the $5.6 million project through an Energy Savings Performance Contract (ESPC), enabled by Texas Local Government Code 302. An ESPC contract allows a public entity to pay for efficiency improvements within their existing operating budget without raising taxes. Savings are generated from the installation of new energy-efficient technology and equipment improvements and will save the City $9.6 million over 15 years.
In addition to the water project benefits, the City of Jacksonville presented the Jacksonville Education Foundation with a $1,000 donation as part of the Performance Services' client Experience program. The client Experience program aims to receive real-time client feedback to ensure client satisfaction at critical stages during design and construction, including the City of Jacksonville project. As a token of gratitude for program participation, a donation is made to the client's charity of choice.
"Performance Services is committed to 100% client satisfaction on every project. With Jacksonville's participation, we can continually improve our process and deliver on our commitments. We are grateful for their participation and are pleased to donate to the City of Jacksonville Education Foundation," said Larry Jones, business development manager for Performance Services.
City of Jacksonville, Texas AMI Project Honored with a 2021 Smart 50 Award
Smart 50 Awards, in partnership with Smart Cities Connect, Smart Cities Connect Foundation, and US Ignite, honors the most transformative smart projects each year. For 2021, the program has recognized the City of Jacksonville project as one of 50 projects globally for its innovation and community impact. The Awards Gala will take place in Washington D.C. October 19-21, 2021. Read more about it here.
About City of Jacksonville
Jacksonville Texas is located in the rolling hills of Cherokee County, Texas. It is the principal City of the Jacksonville Micropolitan Statistical Area, which includes all of Cherokee County and part of the larger Tyler-Jacksonville combined statistical area. With a 2020 population of 14,849, it is the 189th largest City in Texas and 2,332 largest City in the United States. Jacksonville is a major hub for regional highways, including U.S. 69, U.S. 79, and U.S. 175, and a major facility for the Union Pacific Railroad. The City is known as the "Tomato Capital of the World" from a time when the area was a huge producer and shipper of tomatoes.