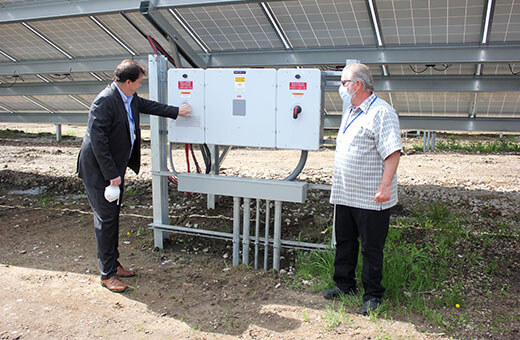 Gurnee, IL. Warren Township HSD 121 (WTHS) is taking full advantage of the sunshine this summer. A new 2.4-megawatt solar array has been completed and was energized on May 29, 2020. The solar project, identified in the 2018 bond issuance, is distinguished as one of the largest for an Illinois school district and will generate enough electricity to account for nearly all the electricity needs of the Almond Campus—an estimated $300,000 annually. The new ground-mounted solar facility is located on the south end of the Almond Campus, along Gages Lake Road.
After several years of research into the environmental, educational, and financial benefits of solar power, the school district selected Performance Services to design and install the solar system. The $7.3 million project officially broke ground in October 2019 with substantial site work and reforestation work to meet Lake County requirements. As a result of the project, the district will receive approximately $2.5 million in rebates and incentives within the first five years of operation.
The energy-focused project is an important part of WTHS's continued efforts to reduce energy-related utility costs and its carbon footprint of buildings and grounds. The energy produced by the solar array is also significant from an environmental standpoint. The clean energy project will reduce greenhouse gases by 2,263 metric tons, equivalent to taking nearly 500 cars off the road or the electricity needed to power an estimated 383 homes each year.
"The fiduciary and scholastic benefits are obvious," said Jim Walz, WTHS Board of Education member. "More importantly, however, as stewards of the earth, it is our shared responsibility to reduce our dependence on fossil fuels. Also, the use of renewable energy is a key component of our strategic plan. This solar field underscores that commitment, all the while adding to our intellectual infrastructure."
WTHS will also take full advantage of its new solar system as an on-campus "learning lab" for students. Performance Services is a partner with the National Energy Education Development (NEED) Project and is providing teacher training, e-learning/classroom lesson plans and solar kits to the district.
"We are pleased to provide a solar curriculum program at Warren, which reinforces our commitment to supporting high-performing learning environments while bringing exceptional value that extends to classroom learning," said Tim Thoman, President and CEO for Performance Services. "The customizable curriculum will directly benefit teachers and students by engaging them on how their school's solar systems work," Thoman added.
About Warren Township High School District 121
Warren Township High School District 121 is a comprehensive four-year high school with an enrollment of nearly 3,900 students. The school district covers more than 50 square miles and includes all or part of Beach Park, Gages Lake, Grandwood Park, Grayslake, Gurnee, Millburn, Old Mill Creek, Park City, Third Lake, Wadsworth, Waukegan and Wildwood. For more information, visit https://www.d121.org.