Five Reasons To Go Solar Today
by
October 27, 2022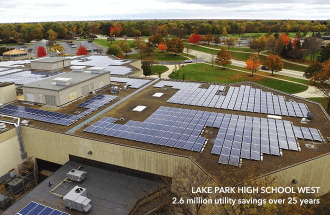 Through careful planning, helpful incentives, and a little bit of luck, the stars are aligning for the viability of today's solar power systems. There has never been a better time to invest in this reliable renewable energy solution. Here are the five reasons why going solar makes sense today.
1. Inflation Reduction Act
The IRA is a game changer for public entities looking to install solar. For the first time in 10 years, public entities can take advantage of the Investment tax credit as cash back for their solar installation. By meeting the basic requirements, tax-exempt entities can reduce the cost of a solar system by a minimum of 30%, with additional reductions based on US material sourcing and geographic location. "In theory, schools located in "energy communities" using materials sourced in the United States could qualify for up to 50% cash back on the cost of their solar installation. This financial impact is a significant bonus for schools. Money returned in the form of cash can be used to pay down a loan or go straight to the operating funds to go towards the educational environment. A challenge with the new legislation is that public schools across the country are now looking at installing solar. This influx of interested schools may cause material and labor availability delays in installing the system. So, it is essential to reach out to your preferred solar provider sooner than later to work through the options.
2. Reduced Operational Costs
Solar power is a free, long-term energy solution thousands of schools have already adopted. Electric prices have risen exponentially over the past decade and continue to grow, significantly impacting school budgeting. Many states are leaving schools to find solutions to budgeting issues; unfortunately, nothing is getting cheaper. Due to schools using a great deal of electricity, the largest consumers of electricity in many communities, schools have been the primary victims of these price increases. Solar power will be a free source of future energy for decades for schools. Investing in solar today will secure budgets and long-term operations pitfalls many schools are battling today. Through legislation, solar power is cheaper now than ever for public entities and a great solution to help schools get back in the green.
3. Material Costs are Down
The prevailing factor associated with solar energy is the decline in material costs. In recent years solar panel materials have reached historic lows. According to SEIA, the average price of solar photovoltaic (PV) systems has dropped by 62% in the last five years! This staggering cost reduction has made solar power financially sound for most facilities.
With material costs now stabilizing, the solar manufacturing industry is reaching maturity. This means that the expansive growth the solar industry has seen in the last five years will continue. Also, the previously high level of competition for component manufacturers has leveled out at equilibrium.
4. Utility Costs Continue Going Up
Just as material costs will affect a project directly, so will utility rates. While owners will be offsetting the cost of their utility bills for the investment in their solar system, they now have one very important benefit of having a solar system: Cost predictability. Depending on the financing vehicle, an organization can lock their electricity rates for the life of the solar panels (anywhere from 25 – 40 years), resulting in significant energy savings for owners.
5. Commitment to Sustainability is Up
Solar power is an opportunity to strengthen an organization's brand with a commitment to sustainable energy. Renewable energy projects show the community that owners are invested in going "green" with a responsibility to the environment and the overall health of their building occupants. While financial feasibility may be the primary factor for justifying a solar power system, there is a real opportunity to reduce a facility's carbon footprint and increase energy efficiency across the board.
Have a question about the benefits of solar power, or are you interested in starting the process? Start a conversation today!