Through careful planning, helpful incentives, and a little bit of luck, the stars are aligning for the viability of today's solar power systems. 2016 was a banner year for solar power nationwide. In just the first half of last year, 26% of all new electric generating capacity came directly from solar energy according to the Solar Energy Industries Association (SEIA). 2017 is looking to take solar to new heights with record installations and power generation figures. There truly has never been a better time to invest in this reliable renewable energy solution. Here are the five reasons why going solar makes sense today.
1. Material Costs Are Down
The prevailing factor associated with solar energy is the decline in material costs. In recent years solar panel materials have reached historic lows. According to SEIA, the average price of solar photovoltaic (PV) system has dropped by 62% in the last five years! This staggering cost reduction has made solar power a financially sound decision for most facilities.
With material costs now stabilizing, the solar manufacture industry is reaching maturity. This means that expansive growth that the solar industry has seen in last five years will continue. Also, the previously high level of competition for component manufacturers has leveled out at equilibrium.
2. Labor Rates Are Up
Another major contributor to favorable solar systems costs is current labor rates. As the economy continues getting stronger, labor costs across the board will keep rising, making solar systems prohibitive for some owners. The Bureau of Labor Statistics estimates that labor rates will keep growing at predictable rates through 2017.
A contributing factor is the limited amount of labor capacity for solar installers. As solar power systems become financially viable and utility costs rise, there is a real opportunity to utilize cheaper labor rates before the demand for these specialized solar installers rises.
3. Utility Costs Continue Going Up
Just as material costs and labor rates will affect a project directly, so will utility rates. According to the Energy Information Administration (EIA), commercial electricity prices are projected to increase by 2.12% from 2016 to 2017 and 3.38% from 2016 to 2018.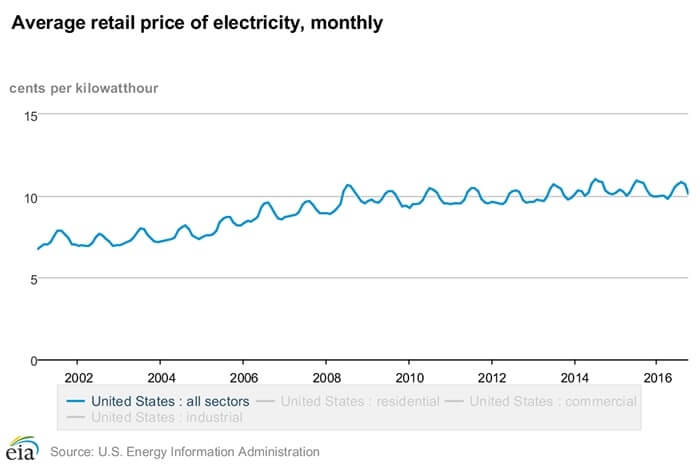 While owners will be offsetting the cost of their utility bills for the investment in their solar system, they now have one very important benefit by having a solar system: cost predictability. Depending on the financing vehicle, an organization can lock their electricity rates for the life of the solar panels (anywhere from 25 – 40 years), resulting in significant energy savings for owners.
4. Investor Optimism Is Up
According to the International Energy Agency (IEA) solar will likely be the largest energy source for the United States by 2050, and investors understand that now is the time to get involved. Unlike other renewable solutions, solar panels have no moving parts. Therefore, this can lead to very low operations and maintenance costs. With favorable financing options and the optimism of investors, today is the time to capitalize on the clean energy trend.
With the recent boom in solar installations, major investors have begun aggressively pursuing solar clients. Investors see that solar energy will occupy a larger role in the world's energy markets and are now looking to invest in solar like never before. Harvesting free energy from the most abundant source of energy available is a low-risk model investors are looking toward for long-term safe investing.
Another major factor for solar financing options are incentives and renewable energy tax credits. Congress recently voted to extend the federal Investment Tax Credits (ITC) at 30% until 2019, which has been crucial for the major growth of solar in recent years. However, in 2020 it will drop to 26%, and in 2021 it will drop to 22%. After 2021, the tax credit will drop permanently to 10% for commercial solar projects and 0% for residential. With other incentive offers dropping off, there is no better time to capitalize on these financing options.
5. Commitment To Sustainability Is Up
Solar power is an opportunity to strengthen an organization's brand with a commitment to sustainable energy. Renewable energy projects show the community that owners are invested in going "green" with a responsibility to the environment and the overall health of their building occupants. While financial feasibility may be the primary factor for justifying a solar power system, there is a real opportunity to reduce a facility's carbon footprint and increase energy efficiency across the board.
Have a question about the benefits of solar power or are you interested in getting the process started? Start a conversation today!
About the Author