This is an uncertain time for school districts. Schools must adapt their HVAC system operations to protect the health and safety of their employees, staff, and students. Follow these unoccupied building HVAC recommendations in the event of a school closure due to COVID-19.
HVAC System Recommendations for Unoccupied School Spaces
Closed buildings present an opportunity to save on utility costs. However, buildings that are not in use but remain in constant occupied mode cause high humidity and mold issues. The risk is that your school district will spend money unnecessarily on additional energy and create a mold problem you are trying to avoid.
To save energy and prevent mold during building closure this summer, we recommend implementing your normal extended break or holiday schedule:
Set your systems to operate in UNOCCUPIED mode.
Enable your central cooling system so that chilled water is available whenever the average temperature in your building reaches 80 degrees (adjustable).
Since the spaces are now in UNOCCUPIED mode, the outside air dampers should be closed when the units are running, to prevent hot humid air from entering the building.
Keep the chilled water loop setting low, and cold enough for the units to wring out any humidity that could be in the building, without over-cooling the space. This process ensures the heating system is not needed for dehumidification.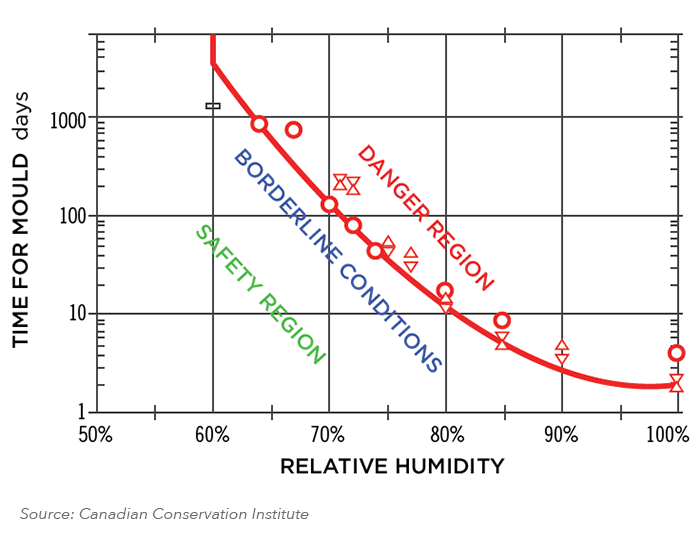 School HVAC System Check-Up
Follow these three steps to confirm your HVAC system and equipment are in good working order:
1. Building Automation Systems (BAS)
Check your building automation systems for alarms, overridden points, or locked points:
Determine why any points or systems are in alarm, have been overridden, or locked at a specific setting.
Where appropriate, release or remove the overrides or locked points.
Consider adding alarm points to monitor your building during the extended shut-down period.
2. Building Walk-Through
If building access IS PERMITTED, walk through each facility to check for:
Systems in operation that should NOT be in operation – keep in mind that systems could be operating in dehumidification mode or warm-up/cool-down mode.
Confirm large units and pumps are set to "AUTO" at the disconnect.
Check for water leaks, dripping fixtures, or leaking flush valves.
Check manually controlled HVAC thermostats not part of the BAS and replace any batteries and ensure schedules are set correctly (including daylight savings time changes).
3. Audit Utility Bills
Audit utility bills for signs of billing errors or indications of leaks or faulty meters if you experience unusual energy consumption.
If you are a current client of Performance Services, please login to the Client Portal to report any issues or concerns.
Information and recommendations regarding COVID-19 are continually evolving, as are the science, technology, and procedures for combating the virus. Performance Services will take reasonable efforts to make recommendations consistent with accepted industry, scientific and/or governmental standards in place at the time of such recommendations. However, Performance Services disclaims any and all liability with respect to COVID-19, including, but not limited to, damages, costs and/or expenses related to any exposure to, contraction and/or spread of the virus.