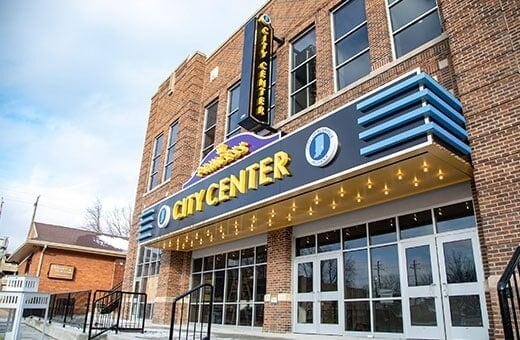 Rushville, IN. The City of Rushville hosted a dedication ceremony and ribbon cutting event to mark the completion of the new City Center at 330 N. Main Street, Rushville, Indiana, on Thursday, April 4 at 6 pm. The historic downtown Masonic Temple has been transformed and repurposed into the new home of the City of Rushville government offices, the Princess Theater, Ivy Tech Community College, and community meeting space.
The City used a progressive design-build approach for design and renovation of the century-old historic building. Performance Services was competitively selected as the design-builder to complete the work in 2017. Throughout the renovation, efforts were made to maintain the historic feel of the building while making necessary updates. A key new feature and focal point is the impressive marquee that lights up the front of the building.
The project involved the renovation of the interior and exterior of the building including a complete historic façade renovation and interior plaster and woodwork. Additionally, the building was modernized with updated mechanical, electrical, and plumbing systems and new windows and lighting. An electronic communication system was also installed that includes CCTV surveillance, access control, and intrusion detection.
The new City Center brings the City of Rushville government offices under one roof on the second floor of the building. The Princess Theater located on the first floor is managed by Wolf Theatres and will use its single screen to show first-run movies. It will also be available as a community meeting and event space. Ivy Tech Community College will share the first floor and have two classrooms and staff offices.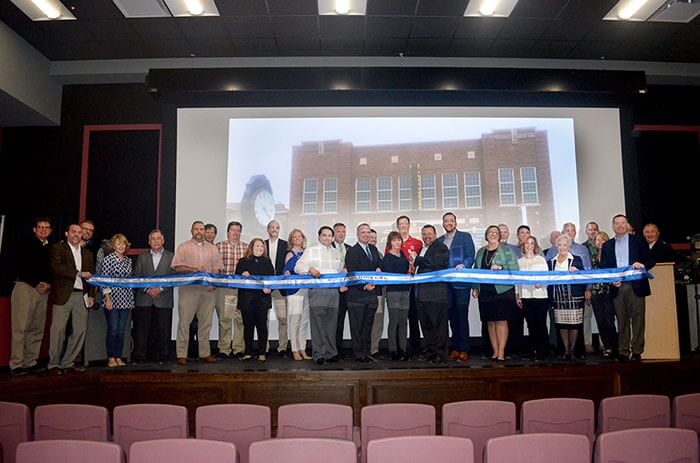 Several city officials were in attendance at the dedication ceremony including Mayor Mike Pavey and Brian Sheehan, Director of Special Projects, who were particularly involved with the project early on.

"The progressive design-build process that Performance Services has taken us through has been second to none. Unlike the previously unsuccessful plan-spec process that we tried on the same building, the design-build team is delivering a much faster, higher quality building that stayed within our budget and included several local trade contractors"
City of Rushville
The dedication ceremony and ribbon cutting took place in the Princess Theater inside the City Center and was followed by a tour of the building. Speakers at the dedication ceremony included Brad Berkemeier, Rushville City Council Member, Jacob Sipe, Indiana Housing and Development Authority Executive Director, Jodi Golden, Indiana Office of Community and Rural Affairs Executive Director, Steve Savoie, Architect of Record from Performance Services, Bob Rynard Sr., Wolf Theatres Owner, Chad Bolser, Ivy Tech Community College Chancellor, Craig Smith, Rushville City Council President, and Mayor Mike Pavey.