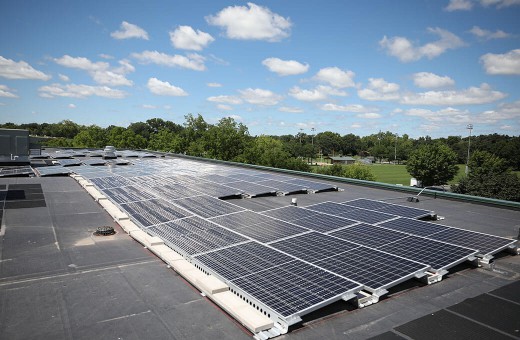 Grayslake, IL. Grayslake Area Public Library District proudly celebrated the completion of its capital improvement project with a ribbon-cutting event on September 14th, 1:00 PM, at the library. The project is a step forward in providing sustainable energy solutions for the Grayslake Area community.
The project includes 282 Solar PV panels installed on the library's roof, providing at least 20 percent of the library's electrical needs. Other project improvements were installing 14 new high-efficiency rooftop units and 23 variable air volume boxes and replacing nine exhaust fans to help provide a consistent and comfortable indoor environment. The library also received a new roof, with a projected 25-year life span. The project is expected to generate $17,475 annually in guaranteed energy savings over the next 15 years.
"Performance Services, Inc. appeared on our radar based on their previous work installing solar panels for school districts 46 and 127. Conversations about serious capital improvements began in the summer of 2020, and the idea of including a solar panel installation as part of a multi-faceted capital improvement project was born. Installing a new roof and over 200 solar panels at pretty much the same time turned out to be a much easier process than expected! Performance Services, Inc. made safety and project status updates top priorities throughout the process," said Executive Director Tim Longo. "Grayslake Area Public Library is proud to be among the growing number of public institutions in Grayslake to make a serious commitment toward renewable energy infrastructure."
Performance Services, Inc. (PSI) was selected in 2020 to complete the HVAC, roof, and solar array installation work on the 1996-constructed building. The budget-neutral project was paid for through the capital improvements and operations budget.
Grayslake Area Public Library District is located at 100 Library Lane in Grayslake, Illinois, and serves the communities of Grayslake, Round Lake, Round Lake Beach, Round Lake Park, Third Lake, Hainesville, and Highland Lake, with a total population of more than 28,000 residents.