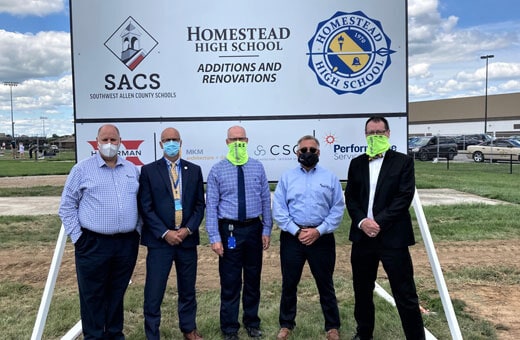 Fort Wayne, IN. The Performance Services team is excited to begin construction at Homestead High School for their the $169 million construction project. The project will result in an essentially new high school building without changing the tax rate or raising local taxes. Groundbreaking ceremonies took place today to mark the beginning of the project.
Southwest Allen County Schools used a one-of-a-kind approach to this project. Performance Services will design and install the mechanical, electrical, plumbing (MEP), and fire protection (FP) portion of the project through a design-build contract. This approach was tested at Lafayette Meadows Elementary School ($2.37M). It proved to be successful so it was replicated with the much larger High School project.
Mike Lindsey, Performance Assurance & Energy Leadership Manager, Mark Titus, Indiana General Manager, and Glen Smith, Project Manager, represented Performance Services at the groundbreaking event. Learn more about the project at the Homestead High School website here.