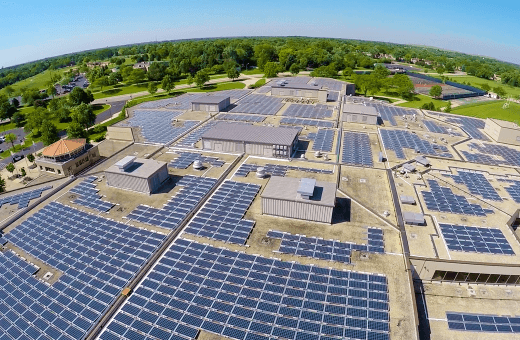 Roselle, IL. Lake Park High School District 108 hosted a ribbon cutting event on Thursday, June 15th at 11:00 am at Lake Park West High School to celebrate the completion of two solar photovoltaic (PV) systems, making it one of the first public school districts in Illinois to adopt solar power on a large scale. The declining installed cost of solar has made this cost effective for the District and will result in an estimated net savings of $5.1 million over 25 years. Both Lake Park West and Lake Park East high schools now have roof-mounted solar panels expected to generate 1.86 megawatts of clean energy. The solar array will provide 2,215,247 kilowatt hours of power to the grid. The project was completed and solar system energized in March of this year.
Lake Park High School District 108 was looking for ways to dramatically increase the energy efficiency at the East and West campuses and selected Performance Services, accredited by the National Association of Energy Services Companies (NAESCO), to implement a guaranteed energy savings project. Implemented in two phases, energy conservation measures at the high schools included new energy efficient vertical classroom units, lighting upgrades, and a cooling tower replacement. The Phase One project was completed in August of 2016.
To further reduce energy costs, the District pursued the use of solar power and is now distinguished as one of the largest public school solar installations with net metering in Illinois. Solar renewable energy credits (SRECs) will become an income source for the District as they sell excess solar credits to utility companies that need them to meet certain energy use requirements. Expected revenue from excess solar renewable energy credits is projected to exceed $5.1 million over 25 years.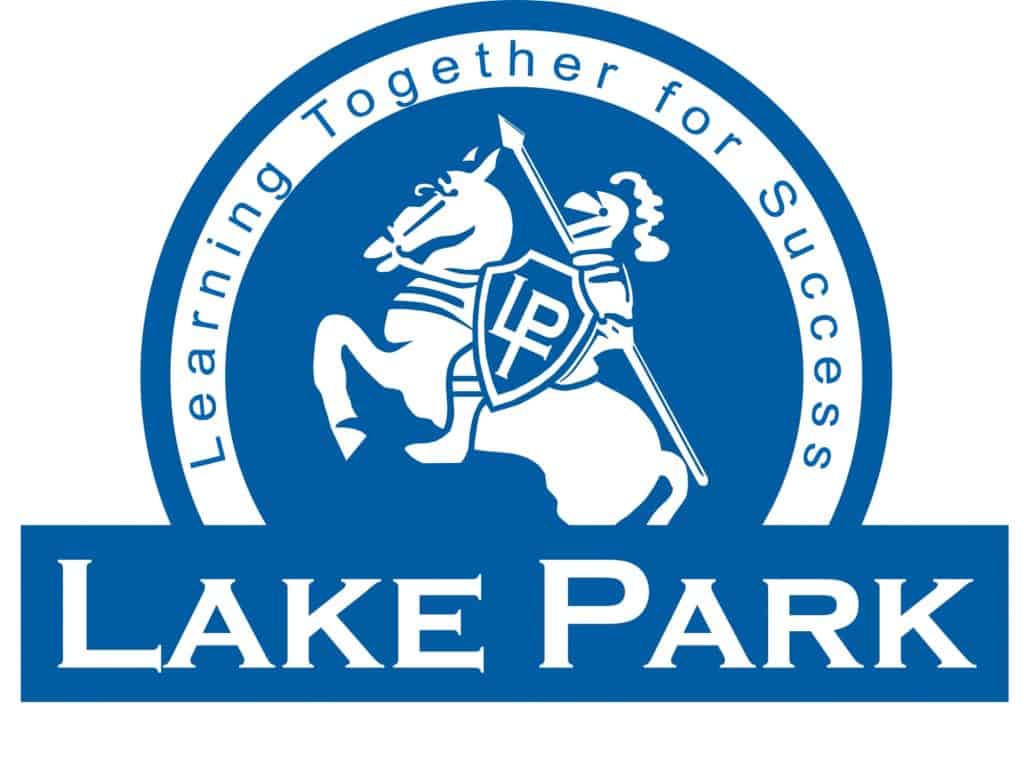 "District 108 has been working for years to model energy stewardship throughout our campuses with energy efficient lighting, HVAC systems and more. This solar project is an exciting and financially sound way to produce clean energy and provide a learning tool for our students."
Lake park hsd 108 superintendent
In addition, a curriculum program developed by the National Energy Education Development (NEED) Project and sponsored by Performance Services is available to the District for use in the classroom. "This is an important extension of our value proposition for schools to provide high performing, energy efficient buildings that provide optimal learning environments, said Tim Thoman, President of Performance Services. The available education component reinforces our commitment to renewable energy and education in a way that directly benefits teachers and students by engaging and teaching how their own school's solar-generated electricity systems work."
This solar project is a continuation of Lake Park HSD 108 initiatives to reduce the District's carbon footprint of its buildings and grounds. The energy produced by the solar array is equivalent to the electricity needed to power an estimated 164 homes in a single year. The project will reduce greenhouse gases by 1,557 metric tons, equivalent to taking 329 cars off the road in a single year.
Lake Park High School District 108 is a comprehensive four-year high school located in Roselle, Illinois. Composed of two campuses situated three miles apart, Lake Park serves approximately 2,700 students. Freshmen and sophomores attend East Campus; juniors and seniors attend West Campus. Located about 30 miles west of downtown Chicago, Lake Park High School has served the citizens of Itasca, Keeneyville, Medinah, and portions of Roselle, Bloomingdale, Hanover Park, and Wood Dale since 1956. For more information, visit www.lphs.org.