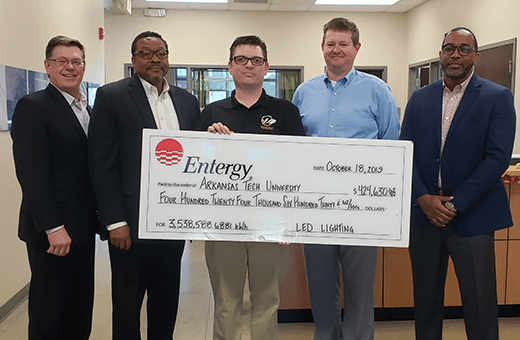 Performance Services has helped clients receive more than $5.5 million in rebate incentive pay-outs in the past four years alone. These numbers continue to increase as clients receive checks from utility companies for the installation of energy-efficient equipment and solar energy projects.
When a public entity such as a school or city implements building energy-efficiency improvements, they are often eligible for rebates or incentive pay-outs from their utility company. Performance Services' energy engineers actively pursue these utility rebates for our clients to increase the cost benefit from our projects. Project-focused incentives can reduce the net cost of implementing the energy-efficiency improvements, shorten the payback period, and make the overall project more financially beneficial.
Performance Services is experienced in acquiring significant grants and incentives and acts as a trade ally for our public sector clients. Utility rebate applications can be complex, so trade allies are important because they perform the energy calculations for the energy conservation measures implemented and communicate utility company throughout the application process.
Recently, Performance Services submitted a rebate application to Austin Energy on behalf of Austin Independent School District in Texas. Performance Services implemented lighting retrofits and energy-efficient HVAC upgrades at several AISD schools that qualified the District for the rebate. As a result, Austin Energy awarded Austin ISD a rebate check of $301,759.
Other Performance Services clients that have benefitted from rebate checks include Arkansas Tech University/AR, Lake Park High School District 108/IL, and Valley View CUSD 365u/IL to name a few. More information on how to implement energy-efficiency improvements.