Performance contracting has been available for decades and accounts for many improvement projects in Missouri alone. This growing procurement method is a great solution for K-12 public schools looking to modernize facilities, address deferred maintenance, and provide optimal learning environments for students. This resource will serve as a primer on performance contracting in Missouri.
Governing Legislation
Energy savings performance contracts are available to Missouri K-12 school districts under statute 8.231(1), offering an innovative option for financing capital improvements with energy savings. This financing mechanism can be used to pay for efficiency upgrades such as lighting, chillers, boilers, water systems, and renewable energy systems over time, in installments, as energy improvements generate savings.
What is Performance Contracting?
Performance contracting, or energy savings performance contracting (ESPC), is a budget-neutral procurement method helping public owners implement facility improvements that reduce energy and water use and increase operational efficiency. This flexible funding alternative can help K-12 schools use energy savings and avoid capital costs to address deferred maintenance and pay for improvements. As a result, no up-front capital is required. Projects are financed and repaid with guaranteed energy and efficiency savings.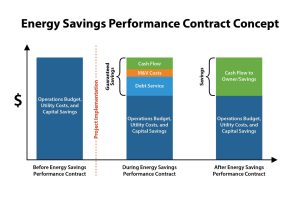 Once a project has been implemented, the performance contractor monitors the owner's monthly utility bills and energy consumption to ensure energy conservation measures are operating correctly and efficiently. If the actual savings do not match the guaranteed energy savings, the contractor will pay the difference and make any changes needed to achieve those savings. Any additional savings beyond the guarantee go directly to the owner.
Why choose performance contracting?
There are a variety of reasons why performance contracting is a great option for public schools. The top benefits of performance contracting include the following:
Implement a Budget Neutral Solution: With performance contracting, no upfront capital is needed to implement facility improvements. The project costs are 100% financed and repaid with guaranteed savings from the energy-focused improvements.
Address Deferred Maintenance: This procurement method offers an avenue for addressing planned facility renovations as well we deferred maintenance. ESPC projects can address critical and costly items such as boilers, chillers, classroom unit ventilators, and building controls.
Increase Operational Savings: New equipment installed can reduce repair costs associated with maintaining dated, inefficient equipment.
Reduce Utility Bills: Now more than ever, being a good steward of resources is important. Reduce energy and water use and increase your district's operational efficiency while reducing ongoing utility costs.
Create High-Performing Facilities: School districts can transform into more modern, high-performing buildings with new high-efficiency equipment, saving energy and generating operational savings.
Establish Optimal Learning Environments: There is a connection between a school's indoor environmental quality and student achievement. With performance contracting, school districts can improve the learning environment for students and staff.
Reduce Contracting Risk: Performance contracting reduces risk and increases value for school districts in several ways, including reduced risk of change orders, school disruptions due to construction, building underperformance, and hidden project costs.
Deliver with Real Performance Guarantees: Facility improvements are guaranteed in hard cash terms throughout the life of the project.
Pursue ENERGY STAR Award: This respected program offered by the EPA recognizes buildings that use less energy, cost less to operate, and provide an optimal environment for occupants.
What are typical energy conservation measures for Missouri schools?
Energy conservation measures (ECMs) can include installing new energy equipment, adding renewable energy to a building, and reprogramming energy controls to perform optimally and efficiently. Common ECMs for K-12 schools include:
HVAC system upgrades
Air quality improvements
Mechanical, electrical, and plumbing system upgrades
Retrofit existing lighting to LED
Water management solutions
Building envelope solutions
Control system upgrades
Solar power solutions
How to get started with performance contracting?
The process first begins with a facility condition assessment. Often, qualified providers offer a no-cost facility assessment to review buildings and consider district priorities and budget needs. This crucial assessment provides a "state of buildings" report that evaluates how facilities are currently operating, identifies potential issues, and provides a prioritized list for future improvements.
With an initial assessment completed, school districts can choose to pursue facility improvements and select a qualified provider. To do so, public entities in Missouri must follow a request for proposal (RFP) process using the Energy Savings Performance Contracting (ESPC) legislation or through cooperative purchasing, such as TIPS. Once a provider is selected, an investment-grade audit follows to detail the project more deeply, including energy conservation measures, project costs, and guaranteed savings. After engineering is finalized and the guarantee is determined, construction for the agreed-upon scope of work can begin.
Once the construction is completed, the measurement and verification process begins. The provider will compare utility bills monthly to ensure the guaranteed savings are realized. Performance Services will monitor the system and savings for the length of the contract.
How to select a performance contractor?
Selecting an experienced, qualified provider is a crucial first step. Below are key steps your district should take to find a qualified partner.
Gather consensus among district stakeholders: Before beginning the process, the district must build consensus among staff and the board. It is best to have school board support to form a selection committee that includes facilities and finance team members.
The district issues an RFP: The district will issue an RFP following the Missouri procurement process, including a two-week advertising requirement.
District committee selects an ESCO: The district reviews and evaluates proposals, interviewing proposers if necessary. The district then selects the provider they feel provides the best value.
Letter of Intent: To move forward, the board of education must authorize the district to execute a Letter of Intent (LOI) for engineering services to begin the IGA.
Execute agreement: Once the IGA has been presented and the scope of work and cost is finalized, the district can execute the energy savings performance contract.
Are there additional grant or rebate opportunities with performance contracts?
The state of Missouri has a few active programs to assist public owners with funding energy-efficient improvements. The first of which is the DNR Energy Loan Program. This loan program helps public entities implement energy-efficiency projects with low-interest-rate loans. The second grant opportunity is the Improving Ventilation in Missouri K-12 Schools Project, offered through the Missouri Department of Health and Senior Services. The program offers school districts grants to implement any identified HVAC system repairs that will improve indoor air ventilation and quality. Paired with performance contracting, these opportunities can help districts achieve more in less time.
Conclusion
Performance contracting is an excellent option for construction procurement to modernize Missouri school facilities while addressing deferred maintenance issues. This flexible funding mechanism allows public entities to do more with less and achieve significant savings and optimal indoor environments for students and staff.
---
Ready to start your next project? Contact us for a no-obligation facility assessment of your district's buildings.
Our engineer will walk your buildings, investigate your equipment, inquire about your needs, and provide the following:
Actionable steps for improving indoor air quality
Opportunities for energy and operational savings
Recommendations for long-term facility planning
Solutions to address deferred maintenance