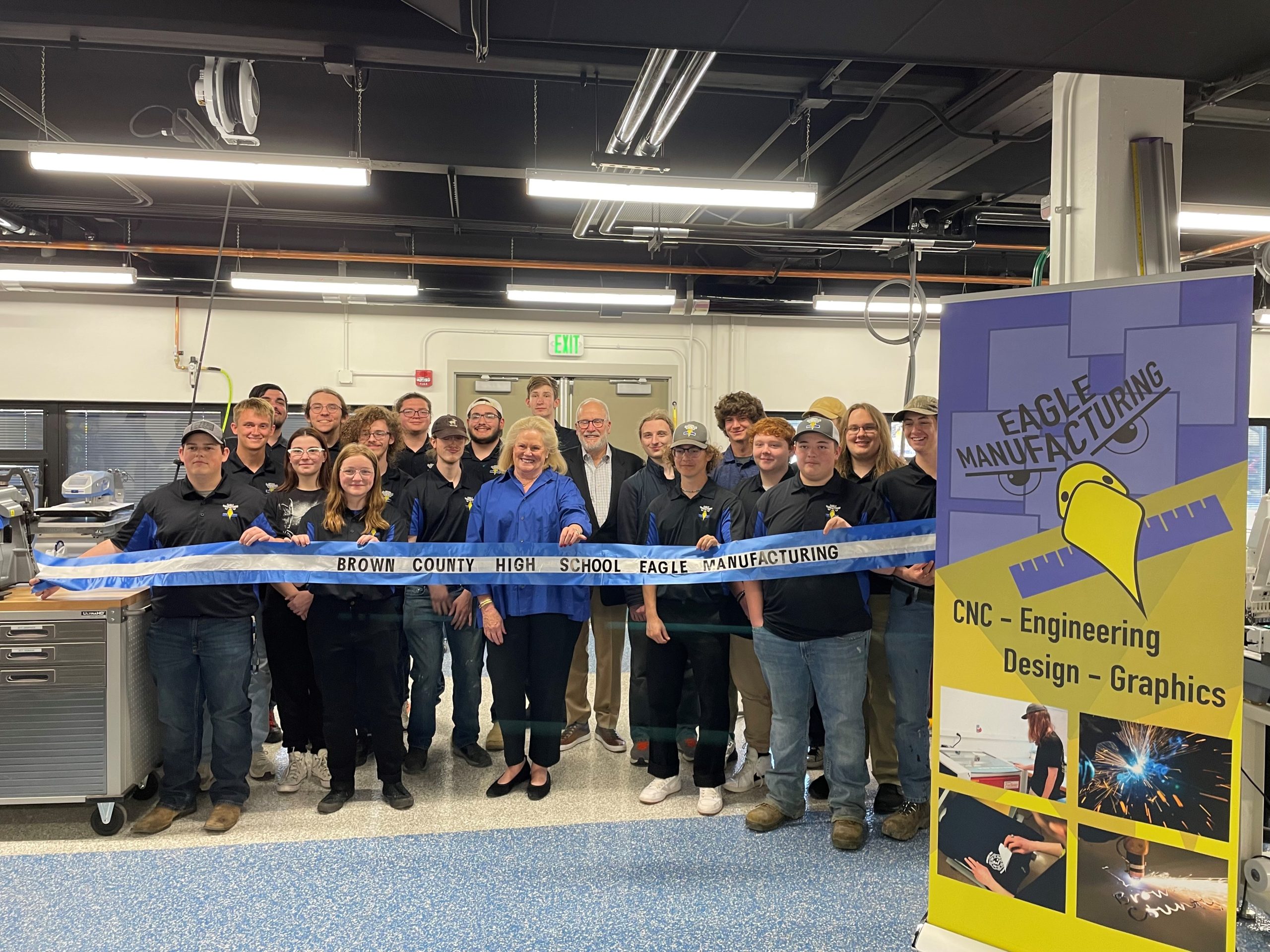 Nashville, IN. Brown County High School Eagle Manufacturing celebrated the completion of its new manufacturing space on Wednesday, April 12, 2023, with a ribbon-cutting event. It took place during the school day with the students enrolled in the program, allowing them to spend time with John and Sarah Lechleiter, who made this project possible for the school community.
Eagle Manufacturing was founded in 2017 as a single-student extracurricular venture. That single student's passion generated the interest of others which developed into today's student-run manufacturing business—all inside Brown County High School. At the core, the Eagle Manufacturing program supports students in learning "employable" life and technical skills in a real-world workplace environment. Over the years, it has become very popular, and the school recognized the need to expand so more students could participate.
The Brown County High School project converted six classrooms in the Educational Resource Center, which included all new mechanical upgrades, to create the new space for Eagle Manufacturing. This achieved their goal of allowing more students to be involved, creating a central location for the whole program. Previously, the students were spread across multiple rooms at the high school. With a central location, the advisors now have better visibility to oversee student activities, provide more instruction, and encourage collaboration.
The following improvements were completed:
Full renovation of the six classrooms in the Educational Resource Center
Removed existing classroom walls to create an open-concept industrial lab
New mechanical upgrades: LED lighting, HVAC, and electrical to handle added equipment load
New epoxy flooring throughout the entire space – creating a cohesive look and feel
Added office space for advisors and students
Enlarged shipping and receiving area – promotes efficiency for current business and room for future growth
Opened up corridor walls adding interior windows to give staff complete visibility of space to provide instruction
"Chris Townsend and his team are building out a legacy of opportunity for Eagle Manufacturing at Brown County High School. I am incredibly grateful for their vision and dedication to redesigning high school for our students," states Emily Tracy, Superintendent. "I will forever be humbled by John and Sarah Lechleiter for taking an interest in our programs at Brown County Schools. This project could not have come to fruition without their support and the collaboration from the Brown County Community Foundation. These are World Class Opportunities that have been fostered by Small School Relationships, leaving a Lifelong Impact."