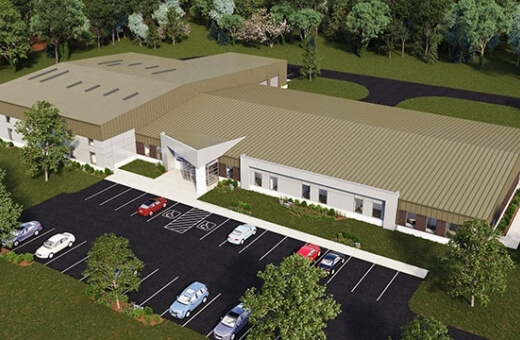 Tipton, IN. The new 36,000 square foot facility located at 2300 W State Road 28 is Indiana's first new correctional facility of the new year and will replace the existing jail that is 120 years old and has a 27-person capacity. The design of the new facility includes several unique design features in correctional operations, including an elevated control room with 360-degree visibility of inmate housing and the intake/booking area. The Correction Center will be a stacked, two-level operational concept, divided into four areas: inmate housing, support and intake/booking and release, public area and sheriff's office. The design allows for future modification and expansion of the jail.
A ribbon cutting ceremony will take place at 12 noon followed by an evening reception and open house from 4:00-8:00 p.m. on Thursday, February 20, 2020. Public overflow parking for the evening reception will be available at the Tipton Foundation parking lot with shuttle by bus to the new facility.
"The Commissioners are pleased to add this new, modern facility as a first step toward a growing community. I want to thank everyone for their support throughout the process, with a special thank you to the design and construction team.  This is a once in a lifetime opportunity and I think we did it well," said Jim Mullins, Tipton County Commissioner District 2.
"The progressive design-build process was smooth and interactive from the start. The communication and working relationship with the Performance Services' team has been excellent. I'm confident that we have a new facility design that meets all our program needs, is innovative, highly efficient, and within our construction budget," said Tony Frawley, Tipton County Sheriff.
To solve overcrowding and outdated building issues, Tipton County decided to utilize a progressive design-build approach allowed by Indiana procurement rules. Progressive design-build features high owner engagement throughout the design process to help achieve design objectives while keeping costs aligned with the goals of the project and within the budget.
Performance Services was awarded the project following a rigorous selection process. Bill Shepler, president of PMSI.usa served as the Owner's project manager. Design-build team members include Joe Mrak, senior architect and principal for Securitecture; American Structurepoint; Lynch, Harrison & Brumleve; Byce & Associates; DSA, Inc.; and contractors, Bowman Construction, Elevation Excavation and Omni Electric.
The unique features of the new Correction Center include:
Design respectful of local architectural character providing an attractive community gateway
84-bed general population facility
Mental health unit specifically designed for mental health and first in Indiana
1st jail in Indiana to have intake observable from central control
Indoor and outdoor recreation under the roof
A master plan developed for future housing expansion of the jail
Critical infrastructure capacity sized for future expansion (kitchen, laundry, intake, and inmate property room)
A master plan developed to accommodate future expansion of county facilities
Enhanced training opportunities
Tipton County is situated in north central and the heart of Indiana on 260 square miles of some of the state's richest farmland and most beautiful countryside. The 16,000 Hoosiers who make Tipton County their home are proud stewards of the amenities and history they share.
---
Update: This project has been completed. View the Tipton County Sheriffs Administration Corrections Center progressive design-build project profile.
See related news about Tipton County Sheriff's Administration Corrections Center progressive design-build project below: