In 2010, a massive earthquake struck the nation of Haiti, causing catastrophic damage inside and around the capital city of Port-au-Prince. At the time of the disaster, many families were already destitute, living in grass huts that collapsed with strong winds. They struggled with hunger, poor sanitation, unclean water and few job opportunities. Performance Services, along with our friends and families, is working with Food for the Poor, an organization that helps to build sustainable communities and provide hope for the future.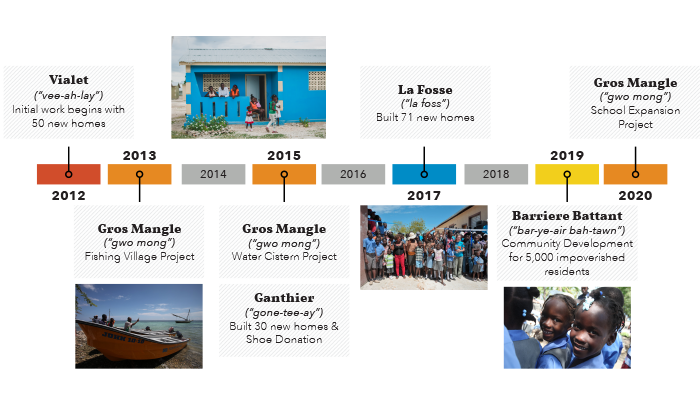 Gros Mangle – 2020
Continued mission team efforts in Gros Mangle have included several essential community projects over the last eight years. In 2020, the Gros Mangle School Expansion project focused on an improved learning environment for the children, introducing the internet and classroom computers. The school project provides:
Three additional classrooms to alleviate overcrowding and allow more students to be enrolled in the school
Handwashing stations with eight faucets that will be attached to water cisterns
A new concrete courtyard in front of the building
Installation of a new Solar array to provide power and lighting for the entire school
Four solar-powered NComputing systems with access to the internet. Each NComputing system has the essential hardware for operation, including a monitor, keyboard, mouse, speakers, and virtualization software.
The school renovation and expansion project supports a safe and improved learning environment and gives the students the necessary resources to pursue their education.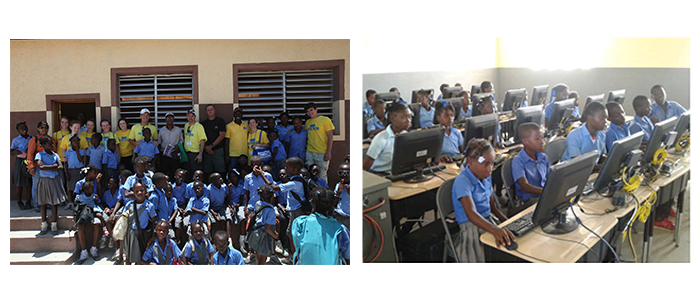 Barriere Battant – 2019
Performance Services supported efforts to improve the living conditions for the 5,000 impoverished residents of Barriere Battant in Petit Goave, Haiti. In partnership with Republic Airways and other generous donors, the Community Development Project supplied the village with essential resources that promoted self-sustainable livelihoods. The residents of Barriere Battant received 40 newly constructed homes, a solar streetlight, three water wells, half of a school and a community center, and the animal husbandry program, including cows, goats, bees, equipment and training.
La Fosse Project – 2017
Performance Services (along with friends and family) has built a total of 71 new homes in the town of La Fosse, Haiti. La Fosse is a community in the municipality of Thomazeau, located about 29 kilometers from the capital city of Port-au-Prince. It is a small, rural community with a hot, arid climate and very flat topography. Typically, the residents in this region are very poor, living on less than $1.00 per day by means of subsistence farming.
Our goal to support the La Fosse Community Development project was achieved in March 2017 to construct double-unit homes with sanitation facilities and a water cistern. Each home also includes a solar panel and light. A dedication trip with Food for the Poor occurred the week of March 13, 2017.
Gros Mangle – 2015
In March 2015, a Water Project was completed. The Gros Mangle Water Project helped solve the absence of freshwater sources in the village. The residents (usually the children) would walk long distances daily to fetch potable water for their families. The Water Project funded a 10,000-gallon concrete water cistern and guttering system connected to the school. This effort provided convenient access to clean water and improved the quality of life for its residents.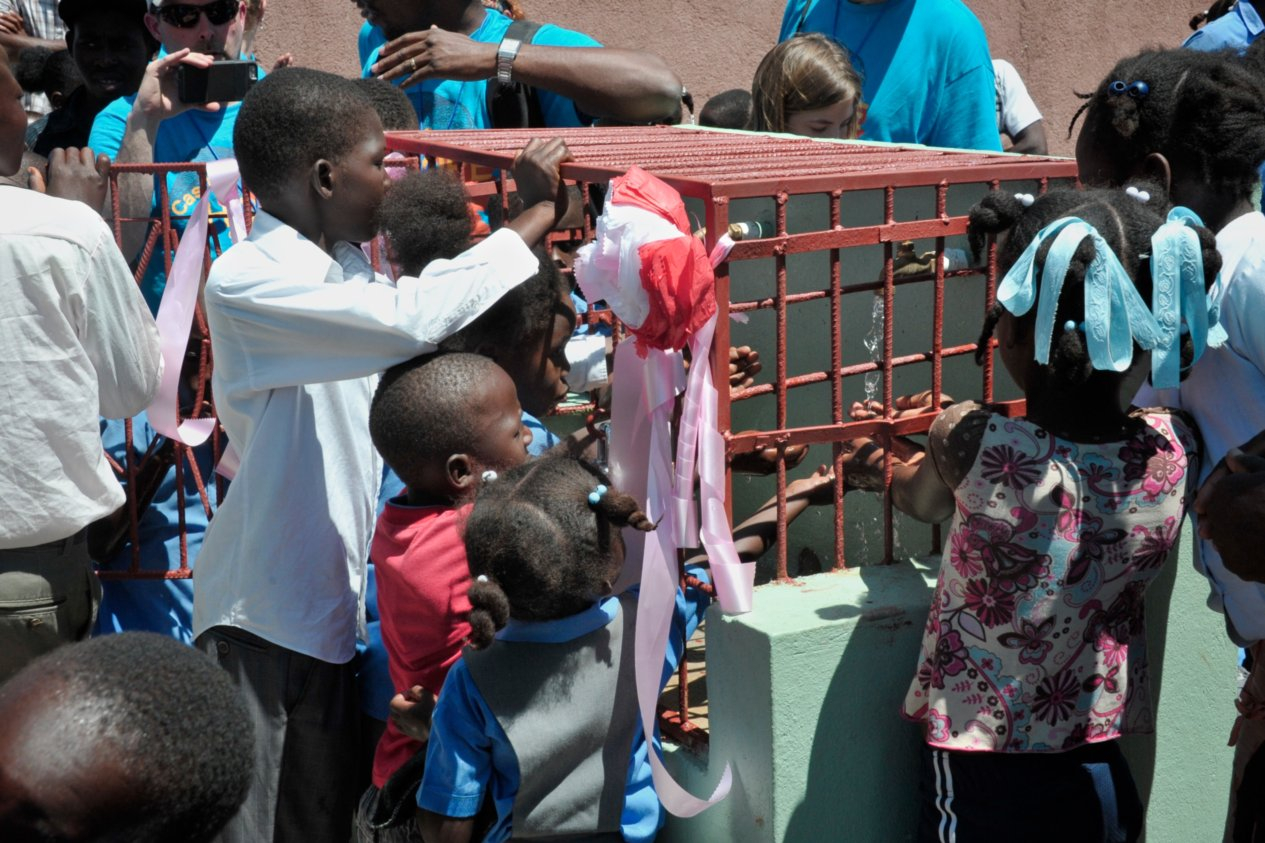 Casting Hope Mission Trip – 2013
In May 2013, Tim Thoman, with family and friends, led a second mission trip to Haiti to dedicate a new fishing village in Gros Mangle. The project includes four ocean-worthy fishing boats, life vests, and fish attraction devices. A return trip planned for March 2015 will dedicate a clean water supply for the island and solar-powered refrigeration for fish storage. An unplanned benefit of the fishing boats has saved more than 100 lives–the boats provided transportation to the mainland for those requiring emergency medical services for a Cholera outbreak in 2014. Photos of our 2013 visit are posted on Facebook.
Our Initial Work in Haiti – 2012
In March of 2012, a delegation of company employees and family members traveled to Haiti with Samaritan's Feet to attend the inauguration of a new village, meet and serve the people of Vialet, and experience life in Haiti. A building project in Vialet, Haiti, has helped 50 families break the cycle of poverty and helped position them for long-term growth. The Vialet project also helps Performance Services more fully live our Mission, Vision, and Guiding Principles.
01

1

A new school for vialet

A sturdy, concrete block building, the school serves 350 students with capacity doubled by having primary students attend in the morning and secondary students in the afternoon. There are eight 1,000-square-foot classrooms furnished with donated furniture from Indiana K-12 school customers, two offices, a sanitation block of eight restrooms and a cistern that stores rainwater off the roof.

02

The 2012 project includes 50 homes made of concrete floors and cinder block walls. They should last for 50 years and be able to withstand frequent hurricanes.

03

The 2012 project provided 30 cows and 50 goats. More than 20 offspring have been born, providing a sustainable flow of new livestock. The animals nourish the families and enable them to sell half of their milk at the market for income.

04

The 2012 project provided 250 fruit trees, five for each family. These trees will mature quickly, providing nourishment for the families and income from selling excess fruit at the market. The trees can also be propagated to produce more fruit and much-needed income.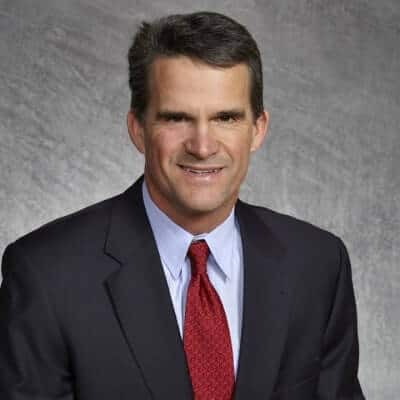 "They have come a long way since we first visited these malnourished children who were drinking brackish water and did not have the technology needed for effective learning. This is just an example of how transformational our projects have been for the Haitian people, especially the children."
Tim Thoman
President and CEO | Company Founder