Introduction
Solar power is growing at an incredible rate. In the last decade, solar has experienced an annual growth rate of 49%! With such growth comes a need for land. With increased demand for land, many are asking: what else can we do with solar land?
In the past, the land used for solar installation has usually fallen into one of two categories:
Rock/gravel. The use of rock or gravel has been used for years. It requires a higher upfront cost than seeding and requires long-term maintenance of spot spraying for weeds.
Grass. Typically, a slow growth or no-mow species of grass is selected to prevent vegetation from growing too high to shade the solar panels. While this is a cheaper option up front, it requires long-term maintenance and mowing.
However, a third option has risen to popularity in recent years. Native prairie vegetation or pollinator fields are now considered the most viable and beneficial use of solar land to both the community and environment.
What are Pollinator Fields?
Pollinator fields are open landscapes dominated by a diversity of grass and wildflower species that support a variety of wildlife, including bees, butterflies, and prairie animals. The natural vegetation of pollinator fields not only offers visual appeal to solar installations but also provides a much-needed source of food and habitat for a variety of species.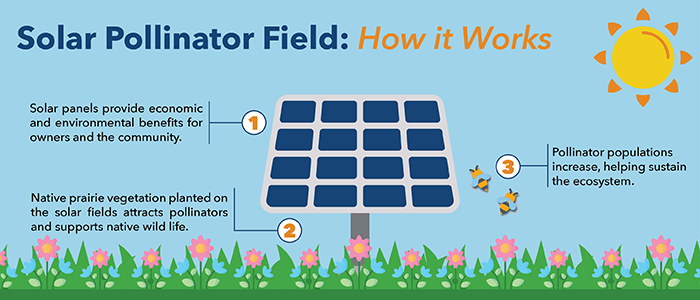 What are the Benefits of Pollinator Fields?
Due to the decline in farmland from large scale solar farms, pollinator fields grown underneath solar panels provide immediate benefits to the solar farm and surrounding farms. In addition to supporting farmland, pollinator fields provide a host of benefits to schools, municipalities, and communities of pollinator fields including:
Providing food and habitat for insects that pollinate flowers and some commercial agricultural crops.
Offering new options for FFA programs. Solar will play a large role in the future of farming, as seen with the rise of agrivoltaic projects.
Improving the water quality by reducing the need for fertilizer and pesticide applications.
Increasing the organic matter and water holding capacity of soils.
Providing nesting habitats for small prairie animals.
Reducing the wind and surface water erosion.
Improving the aesthetic look of the solar facility.
How are Pollinator Seeds Developed?
Typically, pollinator fields vary from site to site due to differences in topography and soil types. As a result, there are many options when developing a native seed mix. Prairie seed mixes can be tailored to include low growing species that will not shade the solar panels and cause detriment to their efficiency. The best seed mixes will include low growing vegetation and provide pollination opportunities for as much of the year as possible.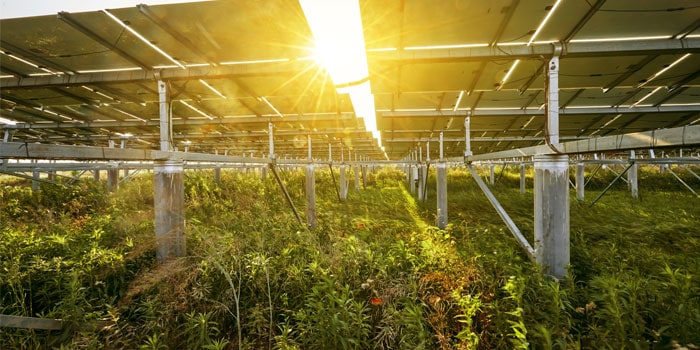 How much do Pollinator Seeds Cost?
While pollinator seed mixes can cost more than standard grass seed, they typically have lower long-term operation and maintenance costs. They are also significantly lower in cost than using concrete or gravel. Pollinator costs may continue to decline as the environmental credit trading platforms continue to expand. Using prairie acres as carbon credits may be possible in the future, similar to trading the environmental attributes of solar production in renewable energy credit markets today.
How do you Maintain Pollinator Fields?
Pollinator fields have both an initial establishment and long-term maintenance phases. The establishment phase can take approximately one to three years with long-term maintenance beginning in years four to five and continuing for the life of the solar array. Watering newly established native seed plantings is not usually necessary, except in years of extreme drought.
Year 1: Primarily used for root development
Years 2-3: Establishment of above-ground growth. Grasses and flowers become more prevalent as the site matures.
Years 4+: Ongoing maintenance to ensure the vegetation doesn't impede the efficiency of the solar arrays.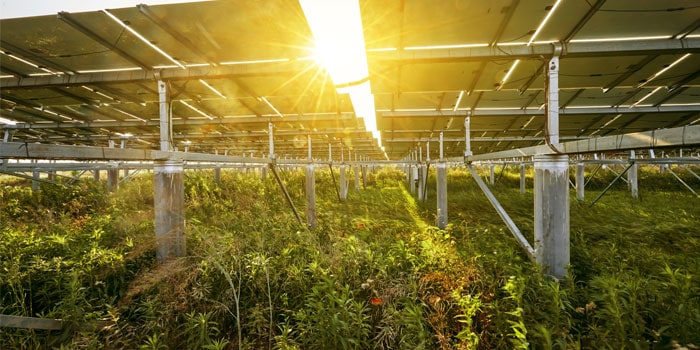 Why does it matter?
With an estimated 35% of global crop production dependent on pollinators, pollinators have an enormous impact on the agricultural industry and as a result, the entire economy. They are responsible for the pollination of a variety of crops grown for food, beverages, fibers, species, and medicines. Today many pollinators are threatened by habitat loss, pesticide poisoning, poor nutrition, disease, and decreased genetic diversity. With more land being allotted to solar farms, focusing on sustainable ecology makes economic sense. By increasing the health of local pollinators, native pollination vegetation can help with crop production and enhance the visual aesthetic of solar arrays.
Interested in Sustainable Solar? Let's Connect!