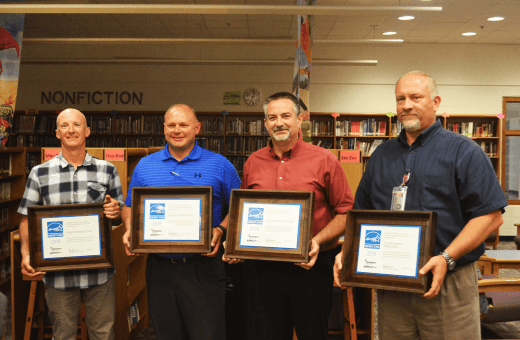 St. Leon, IN. Sunman-Dearborn Community Schools has received notification from the U.S. Environmental Protection Agency (EPA) for ENERGY STAR certification for Bright Elementary, Sunman Elementary, Sunman-Dearborn Middle School, and East Central High School. These four buildings are now distinguished among the top public school buildings in the state and nation for superior energy performance. Schools that earn the ENERGY STAR label use less energy than most buildings and release fewer greenhouse gas emissions into the atmosphere. Indoor air quality standards are also an important part of the qualification criteria that must be certified by a professional engineer.
Dr. Andrew Jackson, Superintendent, expressed his excitement over the news.

"We are pleased with the news. This outcome is due to the hard work of all our staff members to be cost conscious and help the district be frugal. Now we have confirmation from the EPA that we are among the most efficient schools in the nation with four schools receiving an ENERGY STAR label."
Superintendent, Sunman-Dearborn Community Schools
To earn ENERGY STAR, Sunman-Dearborn Community Schools worked with Performance Services, an Indianapolis company specializing in construction, energy savings, and optimal learning environments, in 2011 to implement a guaranteed energy savings project.  This included an analysis of energy savings and renovation of their heating and air conditioning system.
"We've appreciated our collaborative relationship with Sunman-Dearborn Community Schools and we are excited they have received national recognition and the ENERGY STAR award.  A strong team effort contributed significantly to this achievement," said Tim Thoman, President of Performance Services, an ENERGY STAR partner.
Performance Services is an Indianapolis-based integrated design and delivery company that specializes in constructing and renovating schools, and renovating universities, healthcare, and government facilities to deliver optimal environments and high-performance buildings. Innovative renewable systems are integral to the energy services portfolio. The company has provided energy solutions to clients since 1998 and is a leading qualified provider of design-build, guaranteed energy savings projects, Energy Leadership programs, and Energy Star labeled schools.
Learn more about Sunman-Dearborn Schools.
Learn more about earning the ENERGY STAR and for a complete list of ENERGY STAR labeled schools.
Download the full Sunman-Dearborn Community Schools press release here: